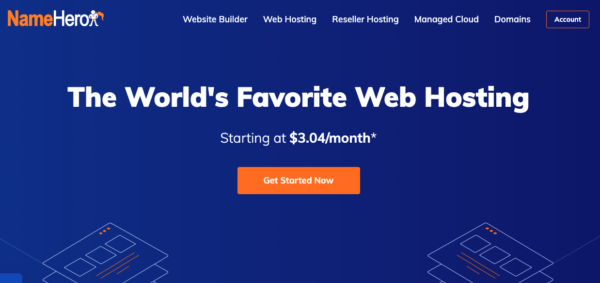 Hosting since 1998, NameHero has been around long enough to establish a solid reputation. In 2009, they moved all of their servers to the cloud, and they now claim to maintain 99.8% uptime, which is just slightly under A2 Hosting.
But how does NameHero compare to A2? Let's see!
CMS
A good CMS can make building a website simple and fast. Fortunately, NameHero uses WordPress to make migrating and creating your website easy.
Unfortunately, NameHero only uses WordPress, unlike A2 Hosting, which provides plenty of alternatives, including Drupal, Joomla, Pligg, and more.
Storage and Bandwidth
Like with A2 Hosting, each plan that NameHero offers comes with a different storage solution.
They have four levels: Starter Cloud, Plus Cloud, Turbo Cloud, and Business Cloud.
Even their most basic model, Starter, gives unlimited SSD storage for a single website and 1GB of Ram. Plus also has unlimited SSD storage, which you can apply to up to seven websites, and 2GB of Ram.
Turbo Cloud, which they say is their most popular package, has unlimited NVMe storage with 3GB of Ram. Their Business model also has unlimited NVMe storage but comes with 4GB of Ram.
Security and Backup Options
No matter what plan you choose, NameHero gives you free and automatic SSL. However, once you hit the Turbo level, you'll get enhanced security, perfect for an eCommerce store.
As a bonus, they give you what they call a "Security Shield," which is automated security that learns to identify (and block) threats in real-time, keeping your website and your users safe.
Plus, NameHero gives complimentary backups. It isn't an automated function, but you can create a full backup of your site every night through cPanel.
You'll have to store it locally, which may require plenty of storage space, but it's worth it to keep your website safe.
Speed and Data Center Location
Because NameHero uses what they call "LiteSpeed Web Servers," coupled with their SSD and NVMe storage, they're fast.
You can expect to see downloads at 700 Mbps and uploads at around 659 Mbps. If you want to test their speed for yourself, they even have a speed test set up, so you can see their speeds for yourself.
Unfortunately, NameHero only has two data center locations: one in the USA, and then one in the Netherlands. If you want to cater to an Asian market, you're better off choosing A2 Hosting.
Support
Called "Superhero Support," NameHero gives you three options to contact them, 24 hours a day, seven days a week. You can use their Live Chat, call them, or submit a ticket number.
Price
Like A2 Hosting, NameHero has different kinds of hosting options, depending on your needs. You can get shared hosting, reseller hosting, and managed cloud hosting, AKA VPS hosting.
For shared hosting, their Starter plan only runs you $3.22 a month but scales up to $14.08 a month for their Business plan.
You have four levels with reseller as well, starting at Silver, then Gold, then Platinum, and lastly, Diamond.
Silver costs $15.47 a month, giving you 40 client accounts, and Diamond is $41.52 a month, with up to 100 client accounts.
Again, their VPS option has four levels: Hero 2GB Cloud, Hero 4GB Cloud, Hero 6GB Cloud, and Hero 8GB Cloud. 2GB Cloud starts at $25.97 a month, and 8GB goes all the way up to $57.17 a month.