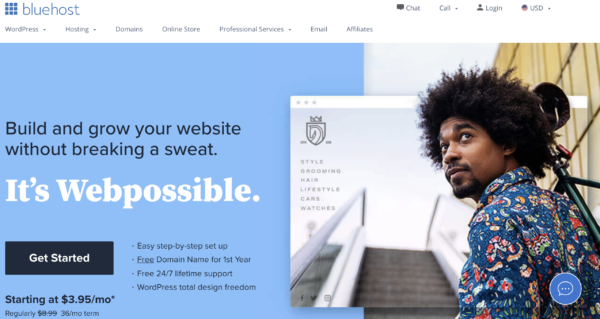 Coming in second, we have Bluehost. Bluehost offers a free domain starting at just $2.95/mo., uses WordPress optimization, and 99.98% uptime. Although InMotion is one of the top hosting sites in the industry and is continually growing, many experts will recommend Bluehost first.
Bluehost Quick Facts
Founded in 2003 in Utah, this U.S.-based alternative website hosting company is now headquartered in Massachusetts. Prior to its move, it was acquired by Endurance International Group and underwent some big changes which seem to have made a positive difference for customers.
This company tends to offer similar and even more extensive services as InMotion does at more affordable prices, with currently over 2 million domains served. Customers who are discouraged that InMotion doesn't offer a domain name with every plan or who are turned off by prices will likely find a good match in Bluehost.
While it utilizes many similar components as InMotion (for example, the use of cPanel as its preferred control panel), Bluehost does so at what some customers consider more reasonable prices.
With Bluehost, customers can access website-building features, marketing and advertising services, and excellent customer education and support. Marketing and advertising services can be expensive on their own, so the benefit of bundling them with a hosting package is attractive not only in convenience but also cost-efficiency.