As a champion of both consumers and businesses, the Better Business Bureau's main mission is to promote marketplace trust. The bureau examines the reliability of a business for its customers. Therefore, many consumers consider a high BBB rating or BBB seal of accreditation to suggest trustworthiness. And, they are not entirely wrong! 
While both a BBB rating and accreditation have shaped the marketplace for the better, they have done so in different ways. But, how so? In this article, we'll discuss the difference between BBB rating and accreditation and the unique benefits of each. 
What Is BBB Rating And How Does It Work?
While a BBB rating does not indicate a company's overall quality, consumers can tell a lot from the assessment. Companies can receive as high as an A+ and as low as an F, ranging from 100 to 0 points. Businesses do not have to apply for BBB ratings; rather, the bureau will automatically rate companies from available public information. 
However, it is important to note that consumer reviews do not affect BBB ratings. This is a common misconception. A businesses' level of morality determines its rating. The following seven elements act as a rubric. 
Business's complaint history with BBB: Complaint volume, unanswered complaints, unresolved complaints, delayed complaint resolution, and failure to address a recurring complaint make up this category. The bureau also considers the company's size when handling complaints. 
The BBB measures complaint volume on a scale of 0 to 15, unanswered complaints from 0 to 40, unresolved complaints from 0 to 30, and delay in complaint resolution from 0 to 5. A failure to address a complaint pattern is measured from 0 to -31, meaning a business can only lose points in this category. 
Type of business: This rating is scored on a scale from 0 to -41, so businesses can only lose points in this category. Companies lose points if they provide services/operate against the law or act unethically in the marketplace.
Time in business: If a business has been successfully operating for an extended time, its rating increases. Therefore, providing the Bureau with your open date is crucial. Companies can receive a maximum of 10 points in this category. 
Transparent business practices: Scored on a scale of 0 to -5, businesses can only lose points for this element. Omitting information about products/services provided or supplying a false/absent address lowers the rating. 
Failure to fulfill commitments to the BBB: This element only applies to BBB accredited companies. Neglecting BBB mandates such as participation in an arbitration award or mediation settlement lowers a company's rating. The bureau scores this element on a scale of 0 to -41. 
Licensing and actions known to BBB: Businesses lose points if they do not obtain/ maintain competency licensing. Any formal government actions against a company also lower its score. Businesses can lose a total of 75 points; -41 for licensing and -34 for government action. 
Advertising issues that are known by the BBB: Advertising misconduct is rated as minor, moderate, or major. Businesses lose points for mistreatment of the BBB name and logo as it relates to their status. For instance, if a BBB A-rated company is not BBB accredited but claims to be, they will lose points. The bureau rates both false advertising and trademark infringement on a scale of 0 to -41. 
A BBB rating represents the amount of confidence the Bureau has in a company to remain transparent and trustworthy. As mentioned above, how a business addresses complaints play a significant role in the rating. To achieve a high rate or improve your current one, focus closely on resolving customer concerns. Promptly and fully addressing concerns will better your chances at a higher rate. 
Once you have accomplished a high BBB rating, start taking steps toward accreditation. Accreditation will allow you to display the BBB seal and inevitably attract more customers. 
How Does BBB Accreditation Differ?
Even though the BBB is not a government agency, many consumers prefer to use a BBB accredited company. Why is that? This is because the bureau sets strict guidelines for businesses to follow to ensure that they are ethical.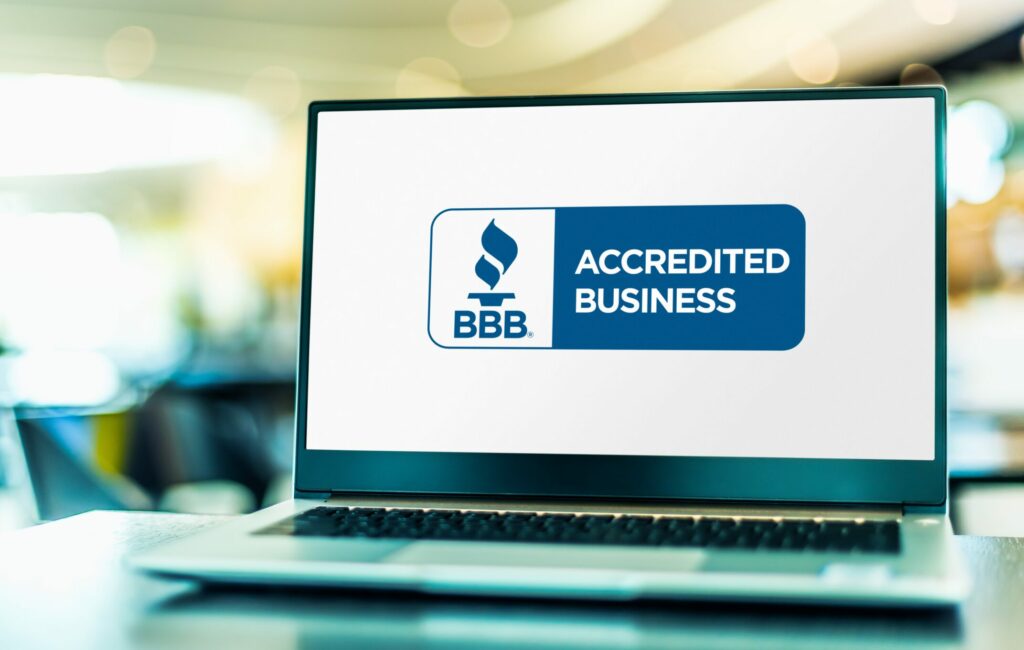 The 8 BBB Accreditation Standards
A BBB accredited business must closely adhere to the eight BBB accreditation standards listed below. Before applying, be sure to check if your business meets or surpasses each standard. 
1. Build trust
Businesses should preserve a positive reputation. They should have at least 6 months of experience selling products and providing services. Companies should also complete compliance and trade licensing, have no formal government action taken against them, and keep at least a B rating. 
2. Advertise honestly
Complying with both legal and ethical advertising tactics constitutes the rules in the BBB Code of Advertising. A BBB accredited business should be able to comply with it. Companies must also cease unethical advertising and selling when advised by the BBB. This includes only using the bureau's trademark and affiliation statement as defined in their policy.  
3. Tell the truth
Businesses should be able to completely disclose all information relating to any products or services provided. 
4. Be transparent
A business should be able to provide both the BBB and customers with an address, business owner, and nature of the business. Consumers should be fully aware of a company's direct contact information, return/refund policy, recurring commitments (automatic renewals or payments), the complete cost of services before provided, delays or product shortages, and be provided an invoice after each transaction. 
5. Honor promises
BBB accredited businesses should deliver their promises well. They should satisfy and comply with every single contract, commitment, and representation the business enters into. 
6. Be responsive
Promptly and professionally addressing disputes is another thing BBB accredited business should be able to handle. Businesses should thoroughly observe every concern stated in a complaint. If the complaint is unresolvable, companies are required to provide an explanation and evidence as to why. Companies must also participate in dispute resolutions and honor any decision reached afterward. Businesses should also work with the BBB to diminish recurring disputes. 
7. Safeguard privacy
Also stated in the BBB accreditation standards is the ability of the business to communicate how they obtain, share, use, correct, and secure consumer information. Customers should also know how a business communicates policy changes and how to express concerns about information misuse. Companies must reduce concerns by securely and legally collecting/transmitting data. They should also respect consumer preferences in regards to their personal information and means of contact. 
8. Embody integrity
Businesses should be able to fulfill commitments, carrying out ethical marketplace transactions, and fostering reliable business relations. Do not participate in any behavior that could discredit the BBB. 
The BBB standards can appear overwhelming, but maintaining BBB membership is as simple as treating customers the way your favorite provider treats you. Be transparent and reliable! The best way to do so is by quickly and effectively addressing consumer complaints, being extremely thorough in the information provided, and being flexible to change when recurring issues arise. 
How Does BBB Accreditation Work? 
Before becoming a BBB accredited business, companies must apply. The application is fairly general and primarily focuses on the validity of a business. Most questions surround the location, contact information, licensing requirements, and amount of time in business. 
Once complete, the bureau researches the company to ensure they meet all eight BBB Accreditation Standards. If the business meets the standards, their application is approved and they are required to pay an accreditation fee. Each year a business remains BBB accredited, they will pay fees. The price varies by location and business size. Call your local BBB chapter to ask about pricing.
Once accredited, the BBB regularly evaluates businesses to ensure they continue to uphold the BBB accreditation standards. 
What Are the Differences Between BBB Rating and Accreditation?
It should go without saying at this point that there is a difference between BBB rating and accreditation. A highly rated BBB business is not necessarily accredited. Only 400,000 businesses are BBB accredited, but there are 5.4 million companies with a BBB business profile. We get it, it is tricky, so let us break it down for you.  
A BBB rating is representative of how well the bureau believes a company will interact with consumers. While a high rating may indicate quality customer service, it does not necessarily suggest an ethical or trustworthy business. That should not go without saying that just because a business is not accredited, that it does not mean it is not dependable. Some businesses just have not applied, or have not been in business long enough to be eligible. 
On the contrary, consumers can rest assured they are using a trustworthy company if they are BBB accredited. The rigid BBB accreditation standards focus solely on trust. Businesses must uphold the standards indefinitely to remain BBB accredited. Therefore, if a business has been BBB accredited for multiple years, they are considered a high-quality organization. 
With that said, both BBB rating and accreditation can play a vital role in a company's success. 
How BBB Ratings And Accreditation Can Help Your Business
Both BBB ratings and BBB accreditation prioritize trust, which is perhaps the most sought-after characteristic in today's marketplace. However, each BBB feature carries unique benefits. Before discussing them, remember that neither a rating nor accreditation determines the quality of products or employees' skill levels. They simply examine a company's ability to provide ethical and prompt customer service. 
A high BBB rating lets consumers know they are interacting with a straightforward company. 
Plus, consumers often seek tangible proof of a good reputation before using a business. Think about it. What is the first thing you look at before calling a company? Their reviews! BBB ratings do not take customer reviews into account. Rather, the bureau provides an impartial opinion on a businesses' ability to meet consumer needs. Their impartiality is often more powerful than customer reviews. 
A high BBB rating is helpful, but accreditation carries far more benefits. The most obvious benefit of BBB accreditation is trust from the public. 62 percent of U.S. consumers are more likely to use a BBB accredited company. In addition to a firm foundation of consumer trust, here are a few upsides to being BBB accredited: 
Permission to display the BBB accreditation seal 
Improved online visibility
Receive quote requests directly from consumers 
Invitations to network and learn at BBB accredited business events
Receive monthly intelligence reports containing helpful information about industry trends and business progress 
Access to educational resources such as webinars
Access to dispute resolution guidance and services 
Get BBB Accredited While Maintaining Good Ratings
Now you know the difference between BBB rating and accreditation. A high BBB rating or accreditation does not determine a company's success alone. However, both a high rating and long-term accreditation are attractive to customers. Because the Better Business Bureau remains impartial, consumers value their opinion. 
The BBB also helps company's stay in business by providing an outline of what customers look for in a service provider. Businesses should strive for a high BBB rating and once applicable, accreditation as well. They may be surprised at how much more attention their business receives when represented by a BBB logo.