Cloud Hosting vs Shared Hosting: Which One Is For You?
Deciding which type of hosting is better for your website can be a little confusing for new website owners. Among the most popular types are cloud hosting and shared hosting. They are both great options, however you should be able to choose which one suits your website best. When should you choose cloud hosting vs shared hosting? Let's dig into that more.
Both hosting types offer a unique set of advantages and disadvantages to weigh against one another. Cloud hosting might be gaining popularity across website owners, but that doesn't mean it's the best for everyone. On the contrary, choosing shared hosting can gain you a lot of great benefits too.
In this article, we will walk you through the details of cloud hosting and shared hosting so you can decide which one fits your needs ~and budget~ best.
What Is Cloud Hosting?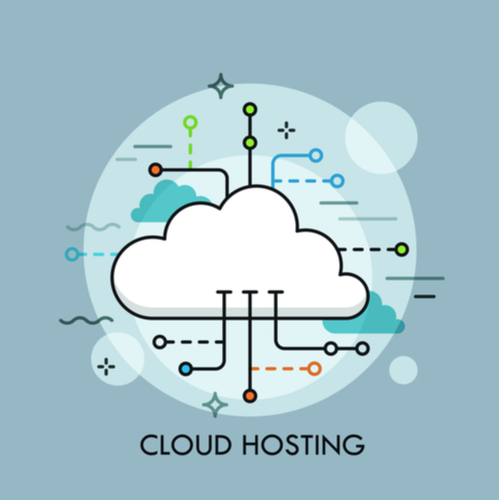 Cloud hosting is a type of web hosting that utilizes multiple servers and software applications to distribute the data storage, bandwidth, computing power, and other resources.
Several servers host your website files when you purchase cloud hosting services from an internet service provider (ISP). You aren't dependent on one single server anymore. 
The ISP manages the servers for you. You don't need to deal with the technical details of how to host the website. Your chosen ISP automatically updates and patches all security vulnerabilities for you as well.
Since the cloud hosting software allocates resources dynamically based on demand, one physical server could potentially host several websites at once through virtualization technology. 
However, what's really happening is that website owners receive one website hosting solution that includes several servers grouped together. 
Definition of Cloud Hosting
Cloud hosting is a type of web hosting option that utilizes multiple servers and software applications. These servers and applications can easily scale website needs as they come up.   
Why Would One Use Cloud Hosting?
One of the main reasons someone would opt for cloud hosting is because it provides more flexibility and scalability than other web hosting plans. 
Since you can dynamically increase or decrease the amount of bandwidth, disk space, and computing power that your website requires at any one time, you will never have to deal with a lack of resources. 
When traffic spikes or slacks on your website, there is no need to worry about purchasing expensive add-ons to accommodate it. 
For example, you might need additional computing power to handle your next launch. As a flood of traffic hits your website, a cloud hosting setup can allocate new resources and power from other connected servers within the cloud. 
The benefit to you and your website is that the site remains active, and you don't lose potential sales from a website that goes down for a few minutes or hours.
What Is Shared Hosting?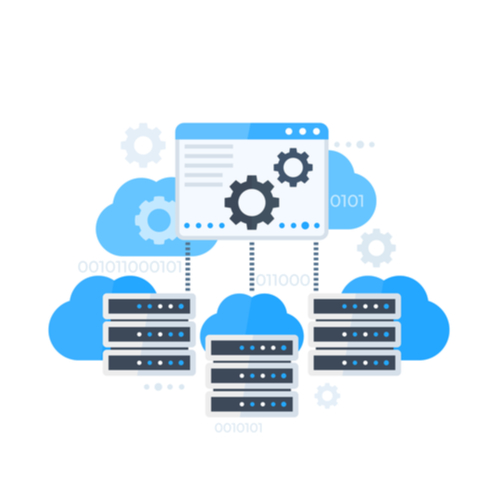 Shared hosting is a type of web hosting where the data storage, bandwidth, and computing resources are split between many users.
When you sign up for shared hosting services from an internet service provider (ISP), your website shares the same server with other sites to store its files. The server's power is then shared between all of the websites hosted on it.
Since the shared hosting software allocates resources statically, one physical server can limit any one site's ability to function. If traffic spikes on several shared websites simultaneously, you might notice a decrease in website speed. Or, you might see your site go down for some time.
Definition of Shared Hosting
The basic definition of shared hosting is that you are sharing a server's resources with other websites. Only a finite amount of power and resources exist to generate the needs of each website on the shared hosting plan. If those resources get pulled too thin, then you might notice slower website speed.
Why Would One Use Shared Hosting?
Someone might choose shared hosting over other types of web hosting plans because it's typically less expensive. 
Since you're sharing the costs of data storage, bandwidth, and computing power among many users, it's typically less expensive to purchase shared hosting services than cloud hosting. 
Shared web hosting is beneficial for those new to online business or who have limited funds to invest in their websites. Since you only have to pay about $10  to $50 per month to host your website on a shared server, you might choose this option when you only need basic website hosting services.
Shared hosting is a quality option for those with a website with infrequent traffic or those that don't use many resources.
4 Key Differences Of Cloud Hosting vs. Shared Hosting
The key differences between cloud hosting and shared hosting include cost, scalability, flexibility, and support.
Shared hosting is typically less expensive than cloud hosting plans because you're sharing resources and costs of computing power among many users. However, shared web hosting services lack scalability and flexibility. The shared physical server can only handle a certain level of performance. 
Cloud hosting is more flexible and scalable since it utilizes virtualization to host your website across several RAM, processors, and SSD storage sources. Do you need more resources? If so, you can simply increase those resources by drawing additional computing power from the cloud.
Of course, you can expect to pay more for these cloud hosting benefits compared to a shared hosting plan. 
Additionally, cloud web hosts typically provide superior support compared to other types of web hosting. Since shared web hosting services usually offer more limited versions of support, you may find yourself attempting to handle issues that arise with your website.
What Are the Benefits of Cloud Hosting vs. Shared Hosting?
The key benefits of cloud hosting include improved performance, increased security, and improved flexibility. Cloud web hosts utilize several sources of RAM, processors, and SSD storage to host your website across the cloud. 
If you need additional resources because of your site's traffic spikes or if demand for computing power changes due to other factors, you can simply increase those resources by drawing additional computing power from the cloud.
You'll most likely enjoy the improved performance and increased security that comes with hosting via cloud computing. Since you're accessing the cloud's resources, your website will typically load faster than shared hosting services where resources are statically assigned. 
Cloud web hosts also employ several layers of security that protect your data from viruses and malware attacks.
Scalability is another significant benefit of cloud hosting. As mentioned above, you can increase the resources used to host your website in response to changing demand or traffic levels on your site's server. Compared to shared website hosting options, where you can't add more computing power or other assets, this represents a considerable advantage.
A cloud hosting option gives you the same central control panel offered by shared hosting options. It doesn't matter that your website pulls RAM, processing, and other factors from several different servers located in different physical locations. 
You can still log into the centralized dashboard and manage everything required to run a website. 
Adjust source code
Manage the database
Update the CMS, such as WordPress
Update plugins and apps
You might think of cloud hosting as a form of dedicated hosting. You can still increase functionality based on demand without paying the higher costs typically associated with dedicated hosting options. 
What Are the Disadvantages of Cloud Hosting vs. Shared Hosting?
While there are some benefits associated with cloud web hosting services over shared hosting plans, there are also some drawbacks. The biggest drawback associated with cloud hosting is cost.
You'll often pay significantly more for the benefits of cloud web hosts than shared hosting options. For example, a company might offer $40 per month shared website hosting services and charge as much as $200 or more for their respective monthly plans that include access to cloud resources. 
Tips When Choosing Cloud Hosting
While cloud hosting is an excellent choice for many website owners, there are some tips you can use to ensure the best experience with it. 
First, make sure that the company you choose offers server monitoring tools and other site uptime services. These options make it easier to identify if any issues arise on their end, which might cause problems with website functionality.
Second, take advantage of the server load balancing tools typically included with cloud web hosting services. These can help you distribute traffic across multiple servers. If one server gets too busy, it will not affect your ability to serve website content or receive incoming requests for data from users on other servers.
Deciding Between Cloud Hosting vs. Shared Hosting
You need to consider your specific situation when deciding between shared hosting and cloud hosting options. 
If you're starting your business and do not expect much traffic to hit the site for some time, then you might consider starting with a shared hosting solution. You won't pay as much while generating traffic to the website. 
You should look into a cloud hosting solution if you're already generating the traffic that translates into consistent monthly revenue. 
In this case, you need the reliability that shared hosting can't guarantee for your business. Although you'll pay more for the cloud hosting option, you'll sleep better at night knowing your business continues to run without interruptions.