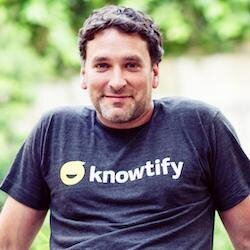 Latest posts by Paul Wheeler
(see all)
For web developers, having the best web hosting is non-negotiable.
Popular web hosting providers usually get the majority of the attention when it comes to web hosting. But for developers who have specific needs, choosing one shouldn't depend on popularity. The best web hosting for developers should be simple to work with, yet can understand and satisfy the complexities of their needs.
There's never a one-size-fits-all approach for developers when choosing the web hosting provider that's right for them. It's not easy when at the bare minimum, it should have the right features, interesting add-ons, a lot of space while fitting very well with their target budget. As a web developer, it's easy to expect a lot from a web hosting service. But how can you tell what's worth the shot?
You've come to the right place. Here, you'll be getting good, real, and honest reviews of what developer-approved web hosting providers should be.
Why Developers Need Good Web Hosting
A good web hosting to a developer is like a good camera to a photographer. That's why finding developer-friendly hosting, with all the right features they need, is essential.
It doesn't matter how good your coding skills and site design are if the host isn't reliable, flexible, or secure. Finding good web hosting provides developers different ways how to get their job done easier and faster, at the same time providing flexibility to use their skills well.
How To Know If A Web Hosting Service Is Developer-Friendly?
With such a wide variety of service providers available, selecting a developer-friendly hosting service is more complicated than ever. A developer-friendly hosting service gives outstanding customer support, excellent uptime, above-average security, and maybe some additional perks. They provide web developers with all the tools they need while keeping them armed with new things to learn.
However, many hosting services don't provide these services. Most services don't give you access to SSD storage, RAM, or the upload/download speeds needed to get the job done. Fundamentally, developer-friendly hosting gives you great speed and reliability while coding and allows developers to code in their preferred programming language.
Although it may be tempting to take a risk on an up-and-coming hosting service that has rock bottom prices and promises the moon, most developers should stick with hosting services with a sterling reputation. Saving a few dollars on the hosting won't matter if the website is never up and you can't get technical support when you need it.
In addition to the criteria mentioned above, a developer should look for a hosting service that supports scalability and a virtual private server (VPS). A good hosting service will be able to continually support a website as it grows in scale and traffic, and a VPS will give a developer access to more resources as well as faster loading speeds.
What Developers Should Look for in a Web Hosting Service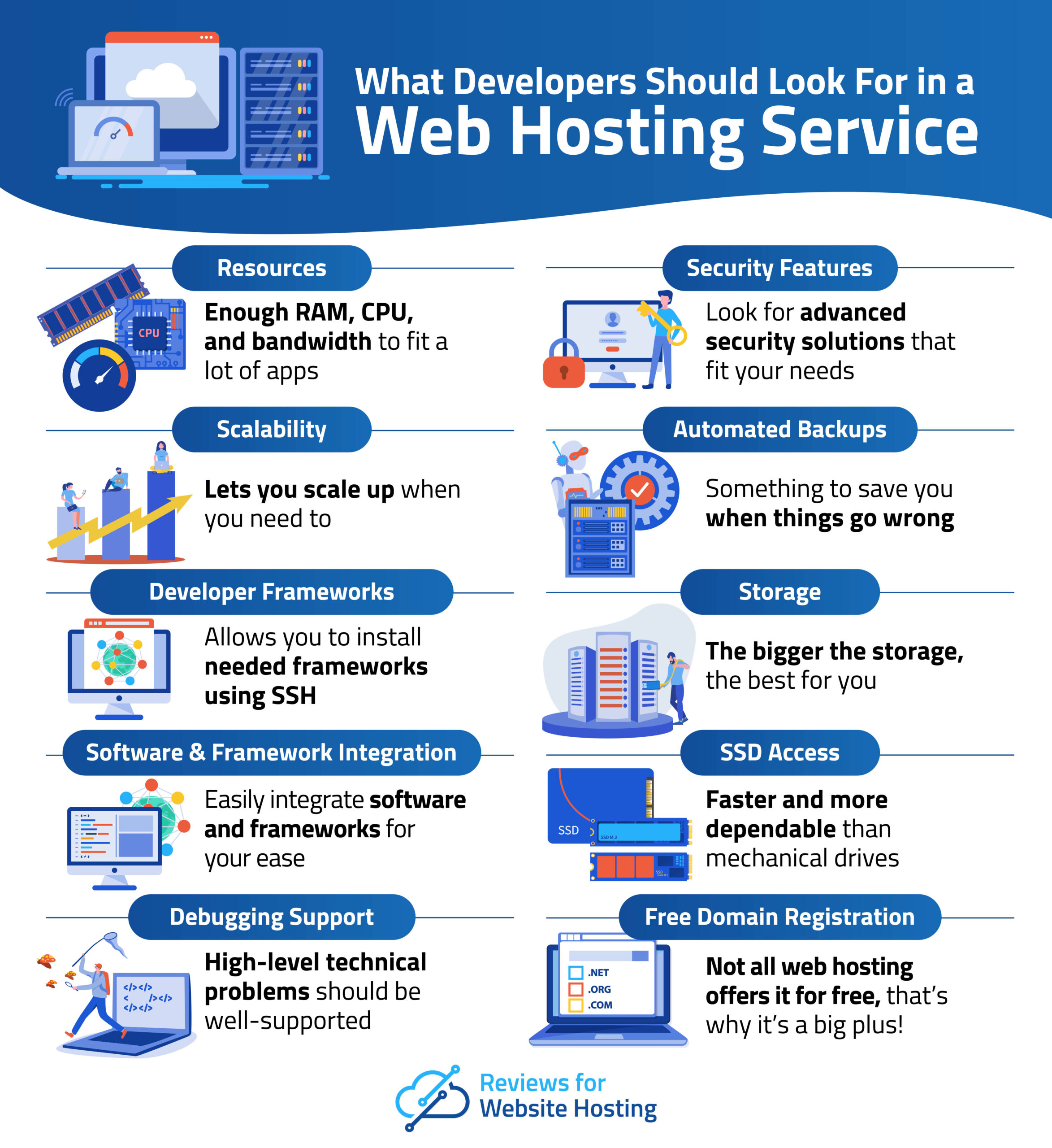 It is valuable to look at the following criteria when identifying the best web hosting for developers.
Resources
Scalability
Developer Frameworks
Software and Framework Integration
Debugging Support
Security Features
Automated Backups
Storage
SSD Access
Free Domain Registration
A developer-friendly hosting service has to have the resources that can cover your needs, plus your customers' needs. There is nothing worse than turning away a potential deal because your hosting service doesn't have the RAM, bandwidth, or scalability to support your client's needs.
A good hosting service will allow you to code in your preferred language and will have the capacity to integrate your chosen language. Additionally, they should provide debugging support to help you troubleshoot any issues that may arise and solid security features to keep your websites up and running. Automated backups are also a good perk that will save you some headaches.
Developers should also look at the quantity of storage available as well as the quality. The best web hosting for developers will give you more than enough storage to save your code as well as SSD storage, so you have quick access. Finally, it's always a good idea to look for hosts that offer free domain registration.
Top Web Hosting Providers Favored by Developers
Based on the criteria above, We've compiled a list of 16 hosting providers favored by developers. All of these hosts will give developers the resources and support that they need to design and build outstanding web pages.
AccuWeb Hosting – Excellent Uptime and Windows Service Operating System
AccuWeb Hosting provides developers with outstanding uptime and excellent customer service. Additionally, you can use a Windows server operating system for ease of access. However, where AccuWeb truly shines is its dedicated hosting plans. Developers can also choose between Linux or Windows servers. Finally, AccuWeb's customer service will help with any challenges a developer is facing.
Key Features:
Great Uptime
Dedicated Hosting Plans
Linux & Windows Servers
Friendly Customer Service
Affordable Hosting Plans
FatCow Hosting – Affordable Hosting for Small and Medium-Sized Businesses
Beyond having a great name, FatCow has provided outstanding support for its customers since 1998. It targets small and medium-sized businesses. They offer month-to-month plans to give their clients maximum flexibility. FatCow's customer service is known to be top-notch, they give you a money-back guarantee, and all of their data centers are powered by green energy.
Key Features
Month-to-Month Plans
Money-back guarantee
99.9% Uptime
Outstanding Customer Support
Free domain registration
For more information, check out this detailed FatCow review.
A2 Hosting – Top-of-the-Line Tech Support and VPS
A2 is one of our top hosting services because of its tech support. A2's tech support team is known as the Guru Crew, and they are on call to debug your project at any time. This fantastic support is even available on A2's shared hosting plans. In addition to the Guru Crew, A2 provides outstanding Cloud VPS and plans to fit any budget.
Key Features:
Excellent Support Team
Money-back Guarantee
VPS servers located worldwide (Asia, Europe, and two in North America)
Great Developer Tools including PHP, MySQL, Python, and PERL
99.9% Uptime
If you are considering experiencing the support of the Guru Crew, read our detailed A2 Hosting review.
InMotion Hosting – A Diverse and Full Feature Hosting Provider
InMotion provides hosting services to a variety of clients, including web developers. InMotion uses the widely popular cPanel. This panel is easy to use, even for beginners. Additionally, InMotion supports a variety of different coding languages, including Ruby, Perl, and Python. Finally, InMotion provides free SSL, emails, SSH access, and unlimited bandwidth.
Key Features:
Access to cPanel
Supports Several Languages (Ruby, Perl, and Python)
Free SSL, emails, and SSH
Unlimited Bandwidth
Affordable Plans
SiteGround Hosting – Auto Scaling Features for Freelancers
SiteGround is an excellent choice for freelancing developers who need the flexibility to take on big and small jobs. SiteGround gives the developers the option of manually setting their VPS settings or using an auto-scale feature. The auto-scale feature will automatically add more CPU and RAM if a website spikes traffic. Additionally, SiteGround offers great cloud VPS servers.
Key Features:
Cloud VPS
Auto-scale prevents downtime and crashing
Secure data storage
In-house developed hosting solutions
Data Centers in the UK, US, Netherlands, and Singapore
Be sure to explore this detailed SiteGround review if you are interested in their hosting services.
Kamatera – Scalability plus a Cloud VPS
What sets Kamatera apart from the competition is the cloud VPS available for developers. A developer can customize the cloud VPS to their liking and select the exact storage, vCPU, and RAM needed for the project. This flexibility allows developers to quickly and easily scale the website to fit the client's needs.
Key Features:
Customizable cloud VPS (storage, vCPU, and RAM)
Billing by the second, you won't have to pay for what you don't need
Dependable performance supported by Intel Xeon processors that result in a 99.9% uptime
A variety of packages that meet every budget, plus a 30-day free trial
Worldwide access with servers in four continents
Hostinger – Budget-Friendly Cloud VPS Plans
Hostinger is one of the most popular and affordable best web hosting for developers available. Hostinger recently started offering cloud VPS plans that dramatically improved their uptime and loading speeds. This hosting service specializes in medium-to-high traffic e-commerce websites and gives developers all the flexibility they need to create the ideal e-commerce website.
Key Features
Budget-friendly cloud VPS
99.9% Uptime
Debugging and back-end support
LiteSpeed Caching
Each Hostinger server has dedicated security software
iPower Hosting – Highly Customizable and Tailormade Hosting Plans
iPower Hosting provides one of the most flexible and adaptable hosting services on this list. After a developer selects a plan, iPower gives them the flexibility to pick and choose the specific services they need (i.e., marketing eCommerce and website management). Additionally, iPower gives you the option to use affordable shared hosting plans to keep your costs low.
Key Features:
Low Priced Hosting Plans
E-commerce Support
Customizable Service
Secure Data Storage
Shared Hosting Plans
For more information, check out this full review of iPower Hosting.
InterServer – Affordable VPS Plans and Lighting Fast Provisioning
InterServer provides developers with customizable cloud VPS at reasonable prices. Additionally, your cloud VPS will be up and running within 15 minutes of payment which is second to none. InterServer also provides debugging support for any server-related challenges. If you are a student, you can get one free year of hosting for free!
Key Features
Customizable Cloud VPS
99.9% Uptime
Shared plans come with LAMP stack
Free hosting for Students
Free Webuzo on VPS plans
If you are interested in using InterServer for your hosting needs, check out this detailed InterServer review.
Liquid Web – A One-Stop-Shop for Web Developers
Liquid Web is a premium service. It is one of the most expensive hosting services on this list, but they provide every type of service and support a developer could dream of. Liquid Web supports every type and size of the website. Additionally, they allow you to clone a website or an entire server easily. This allows a developer to test a new feature before taking the website live.
Key Features:
Guarantee 100% Uptime
Guaranteed Phone support in less than 60 seconds
High-powered servers audited by a 3rd party
Cloud VPS
Staging Environment
Scala Hosting – Streamlines the Support of Multiple Clients
Scala Hosting has a unique take. Their emphasis is support developers who have multiple clients. They have developed a proprietary hosting platform that saves you the cost of a license fee. Additionally, a developer can save up to 25% on Scala Hosting's self-managed VPS plans compared to their managed ones. This makes Scala Hosting an excellent choice for experienced developers.
Key Features:
Proprietary Hosting Platform
Customizable VPS plans
99.9% Uptime
OpenLiteSpeed integration
SSD Storage
Bluehost – Affordable VPS hosting and Free Domain Registration
Bluehost is based in the United States and supports over 20 million sites. In fact, it is one of the largest hosting services in the world. One of Bluehost's outstanding features is its support of a variety of programming languages, including Ruby, Python, Perl, and PHP. Additionally, Bluehost provides VPS hosting as well as shared and dedicated server plans.
Key Features:
Free Domain Registration
Unlimited bandwidth
Supports a variety of programming languages (PHP Perl, Ruby, Ruby on Rails, and Python)
Great discounts and offers
30-day money-back guarantee
For more information about Bluehost's hosting services, explore this detailed review.
IONOS Hosting – Reliable Hosting at an Affordable Rate
IONOS previously went by the name 1&1. This hosting service provides VPS, WordPress and WordPress Pro, Cloud, and Shared hosting plans. IONOS is a one-stop-shop. They provide almost every service a developer would need, and they do so at affordable rates. IONOS offers a 30-day money-back guarantee as well as a dedicated dashboard and email account for all of its clients.
Key Features:
30-Day Money-back Guarantee
Uptime of 99.98%
Customer Support via Phone and Live Chat
Free Domain Name Registration
Unlimited Bandwidth and Storage
For more information, check out this full review of IONOS hosting.
Azure – Microsoft Cloud Hosting
In addition to all their software and operating systems, Microsoft also offers cloud hosting through a service called Azure. Azure provides developers with multiple operating systems, programming languages, frameworks, and databases. Developers also have access to cloud VPS and support tools like Visual Studio, Visual Studio Code, SDKs, and Visual Studio Subscriptions.
Key Features
Supports Multiple Operating Systems
Supports Multiple Programming Languages
Cloud VPS
Great Promotions and Offers
Outstanding Customer Service
HostGator – Powerful Tools and a Terrific Website Builder
HostGator is one of the most popular and well-known hosting services globally. Their hosting plans are full of developers' features to build great websites for their clients. HostGator also stands out because they offer 24/7 customer service, which few other hosting services provide. Additionally, HostGator has excellent uptime and great shared hosting plans.
Key Features:
24/7 Customer Service
Shared Hosting Plans
E-Commerce Tools
Outstanding Uptime
VPS Hosting
Host Color Hosting – Great IT infrastructure and Customizable Plans
Host Color has grown from humble beginnings to one of the world's most trusted hosting service providers. Their primary data center is located in the United States, but they also have data centers all over Asia and Europe. Host Color puts an emphasis on infrastructure and guarantees 100% uptime on any hosted website. Additionally, they have fully customizable hosting plans.
Key Features:
Guaranteed 100% Uptime
Outstanding Customer Support
Advanced IT Infrastructure
Customizable Hosting Plans
Hosting Plans at Different Price Points
For more information about Host Color, check out this full review.
Managed vs. Self-Managed Hosting Services
Many of the host services on this list provide managed and self-managed plans. The managed plans are almost always more expensive, and some developers see self-managed plans as a way to save some money. While this may seem appealing, I would encourage you to give it some further thought before committing to a self-managed plan.
Developers that primarily work with small projects are wise to use self-managed hosting plans. Low-traffic websites won't require as much time tweaking the software or adjusting the server's performance. However, things begin to change as projects grow in size and scope.
Large projects benefit from managed hosting services because the host can use their technical expertise to focus on software, security, and uptime. This leaves the developer free to concentrate on coding and creating a beautiful website.
At the end of the day, selecting a managed vs. self-managed hosting service comes down to your individual needs as a developer and the type of projects you will be taking on.
Which Host is the Best?
There is no definitive answer to this question. All the hosts on this list provide outstanding service. However, each developer needs to have their own list of must-have features because each service has its strengths and weaknesses.
If you are a new developer just starting out or an experienced developer taking on massive projects, you will have to carefully consider your needs and those of your clients and choose a web host that can support you in your endeavors.
Wrap Up
If you're a developer, we hope this list helps you in your search for the best hosting service. Before selecting a hosting service, carefully consider your and your clients' needs. I would also recommend evaluating any potential host service in terms of the following variables:
Resources
Scalability
Developer Frameworks
Software and Framework Integration
Debugging Support
Security Features
Automated Backups
Storage
SSD Access
Free Domain Registration
The right hosting service can make or break a website, so carefully choose your hosting provider. Read our full reviews for more detailed information about the host services on this list. These reviews will give you more information that will help you select the right hosting service.