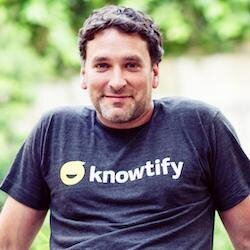 Latest posts by Paul Wheeler
(see all)
Cybersecurity continues to evolve and change– and you should too.
Currency, jewels, and gold have been valuable assets for centuries, but the information is oil in today's world. User personal information is the golden grail for hackers and an invaluable commodity.
We must understand the dangers that await us to develop a system to counteract cyberattacks. In this article, we analyze the upcoming cybersecurity trends and threats to help you get started with 2023 on the right foot.
Let's Talk About Cybersecurity
With billions of devices connecting online, new threats pop up each second. The interconnected world makes everyone susceptible to cyberattacks. 
But what does it mean, and why is it important for your business?
What is it?
Cybersecurity involves protecting your network, systems, and programs from digital attacks. Malicious individuals launch cyberattacks to access, change, or destroy sensitive information. Some also extort money from the users or interrupt business processes. 
A successful cybersecurity approach creates multiple protection layers, spreading across the systems and devices you want to keep safe. The technology, processes, and people in a business must complement each other to create an effective defense from online threats. 
Why is it Important?
If you're still contemplating the importance of cybersecurity and where it fits in your IT strategy, here is a compilation of the most prevalent considerations. 
Increasing Volume and Complexity of Cyber Attacks 
Close to 15 million data breaches took place in the third quarter of 2022, a massive 167% increase compared to the previous quarter! A hacker attack occurs every 39 seconds, and 43% target small businesses.
Tech Innovation
Technology continues to play a critical today, but it also reinforces why protection against modern threats that stem from emerging tech, such as Artificial Intelligence (AI) and Machine Learning (ML) is vital. 
Going to the Cloud
A continual shift to cloud services means more companies are now hosting business processes and storing customer data off-site. The strategy also helps bolster a remote workforce strategy. Cloud deployment comes with many benefits but also more security risks. 
Impact on Operations 
Cybercrime is detrimental to businesses with an average loss of over $4 million per data breach. Don't forget to account for long-term losses after a data breach, which can last for months or years. 
Top 8 Trends in Cybersecurity to Watch Out For
Exponential technology advancements also mean cybersecurity is developing and maturing, so it's able to remove cyber attacks and threats. Next, we delve into the latest eight trends in cybersecurity and how they affect organizations. 
1. User Awareness
Cyber threats are becoming more aggressive daily, and businesses must take proactive steps to strengthen their security policies. Cybersecurity awareness is critical to preventing expensive network hacks and identity theft instances. In addition to sophisticated IT protocols and firewalls, it's necessary to augment IT personnel capabilities through seminars.
Developing an awareness of the threats and taking basic precautions should be a fundamental component for everyone in an organization in 2023!
Do you know 97% of people cannot identify a phishing email? And one in 25 individuals will click on such emails and fall prey to cyberattacks?
Cybersecurity awareness can help prevent an onslaught of attacks and threats. Some businesses are already implementing classroom- and web-based teaching to promote awareness. Further, have policies that focus on how employees handle and share confidential business information. 
2. Increased Healthcare Sector Attacks
A lax cybersecurity system in the healthcare sector exposes millions of people and organizations to multiple security and liability issues. It's now pertinent for health organizations to invest more in cybersecurity. 
The healthcare cybersecurity market value will rise to $59 billion by 2030. Data breaches are a leading trend in the industry, with over 157 million records exposed between 2015 and 2019. Such breaches can cost healthcare organizations an average of $7.13 million. 
Healthcare players are now paying more attention to their security requirements, which drives considerable growth in the sector. The figures show data breaches are a major continuing threat to organizations handling sensitive information about patients, employees, and businesses. 
3. GDPR Compliance
General Data Protection Regulation (GDPR) is a significant development in the data privacy regulation sphere of the European Union (EU). The regulation has its roots in the EU, but any business marketing its services or goods to the region must comply with it—regardless of location. 
GDPR imposes a consistent data security law on all EU countries, so each member doesn't have to come up with their data protection law. Customers get uniform protection over their data. While the law affects EU citizens, it affects any business targeting the European market. 
4. Increased Attacks on the Financial Services Sector
Phishing attacks are prevalent in the financial services industry but are not limited to emails. Hackers are coming up with attacks via social media and multiple messaging platforms. 
Asset managers, banks, and insurance companies also have to deal with data breaches and malware attacks. Firms in the industry are 300 times more prone to cybersecurity attacks compared to other niches. 
5. Increased Geo-Targeted Phishing Attempts
Phishing is still a big problem in the IT industry, with many falling victims to persistent attempts. Cybercriminals now deploy advanced techniques to create well-executed Business Email Compromise (BEC) attacks. Hackers are using malicious URLs and emails, but they are no more geo-targeted, personalized, and localized. 
Expect an increase in targeted phishing through 2023 and later years. It's time you adopt and invest in a comprehensive security awareness program. Some are going as far as creating simulators that explain and recognize upcoming phishing patterns and hacker operations. 
6. IoT Vulnerability
Most Internet of Things (IoT) devices on the market today are still experiencing many security issues. The computing devices in IoT products are constantly sending out and receiving data over the internet. The system is a significant security threat that exposes you to attacks such as hijacked devices or Denial of Service (DoS).
IoT connects the physical world and the virtual space, and home intrusions are increasing the number of threats the tech brings. So, your IoT device presents an enormous opportunity for businesses and cybercriminals. 
7. International State-Sponsored Hackers Attacking Businesses and Governments
Different countries are constantly taking part in cyber espionage as they try to undermine competing or unfriendly governments or gain access to secrets. However, Non-Governmental Organizations (NGOs) and companies are likely to be targets of state actors. 
An example is the WannaCry ransomware attack believed to come from hackers with connections to the North Korean government. Since then, there have been numerous attacks on servers across the world that security agencies allege have support from foreign governments. 
Over 70 countries will hold their elections in 2023, which increases the chances of attacks by hostile nations. Common attempts are hacking and cyberattacks through social media disinformation campaigns. 
8. Work-From-Home Cybersecurity Will be Critical
Organizations are now focusing on securing millions of worldwide devices used for remote and home working, especially after the pandemic. In the pre-COVID era, most work was office-based, and IT teams only ran regular checks and updates of company devices. The structure is simple and ensures work-related smartphones, laptops, and PCs have the latest anti-virus apps and preventive measures. 
2023 brings new challenges as more employees choose to use their devices for remote work. Non-secured gadgets increase the risk of workers falling prey to phishing attacks. Further, people are more likely to work with colleagues they don't know, increasing impersonation scams. 
Top 8 Threats in Cybersecurity
Scammers and attackers are more creative, so stay on top of the latest dangers to protect yourself, your business, and your reputation. 
Cyber attacks come and go out of fashion and knowing what's in now and for the next season can help you stay safe. Here are the biggest cybersecurity threats to watch for in 2023. 
1. Human Error
IBM estimates 23% of all data breaches are due to human error, making humans a big risk factor for IT security. An unsuspecting worker can put your entire network of devices at risk, no matter how much you lock it down. After all, malicious attachments and links, spoofing, phishing, and other scams still trick millions of people into opening a door for cybercriminals. 
Consider investing in IT security training in your company. The training should emphasize why the security measures matter and employees should follow the protocols. However, training should be intensive, or you can even run phishing tests to keep the team on their toes. 
2. Supply Chain Attacks
In a 2018 disaster, a hacker compromises the bank transactions of 380,000 customers making payments to British Airways between August 21 and September 5. The cybercriminals walked away with user names, card number information, and card security codes (CVV). 
British Airways does not store any information on its servers, so the hacker added a script to the airline's site. The result was enormous financial theft and a serious reputation challenge for the giant airliner.
This is a supply chain attack that requires introducing malicious code into a software development process—usually using third-party apps. Code execution allows the hacker to gain access to all the information they want. 
However, avoiding a supply chain cyberattack is harder because the criminals are using Trojan horse strategies and spreading malicious code via updates. Keep this type of attack by: 
Reducing the number of outside IT service and software providers with access to your system 

Carrying out regular comprehensive audits and ensuring partners implement measures to protect your business infrastructure

Not adding updates to your antivirus exclusion list and testing updated on isolated systems before installing on your network 
3. Cloud Misconfiguration
Human negligence can also play a disastrous role if you choose popular cloud providers such as GCP, Azure, or AWS. An administrator can overlook setting the cloud security option when configuring the cloud. 
For instance, accidentally allowing unrestricted outbound access gives unauthorized apps a communication avenue with your server. An infamous example is the 2017 Alteryx breach. A tiny misconfiguration mistake was all that was required to release details on millions of households. 
Some recommendations to avoid cloud misconfiguration include: 
Understanding the full state of the cloud environment, including every resource, relationship, and resource 

Using infrastructure as code everywhere to bring predictability, scale, and efficiency to your cloud operations 

Using code to express your cloud environment's compliance and security policy for maximum efficiency and fewer developer errors

Adopting a "deny by default" access policy 
4. Web3 Implementation
New technologies, such as Web3, are making headway in 2023 and will become a big target for hackers. The Web3 tech takes control from large companies and decentralizes power between users using token-based economics, cryptocurrency, and blockchain. 
However, the excitement around Web3's potential means security is left behind. We often forget security as a new software product rushes to release services—as we've seen with multiple hacks against crypto exchanges. 
Laying out cybersecurity basics can help prevent Web3 breaches, especially as the technology becomes more popular. 
5. Mobile-First Attacks
Almost everybody is using their mobile device to store an extensive amount of valuable information. Further, smartphones facilitate several remote tasks, including cab booking, banking, hotel reservations, and shopping. However, 60% of cyber fraud, such as stolen passwords and phishing, occurs on these devices. 
Hackers seeking access to information will increasingly turn to smartphones. They use attack strategies such as data manipulation, ransomware attacks, malware, and data loss. 
Security professionals are working on solutions that can help protect smartphones from cyber threats. However, it's up to you and me to take preventative measures to protect the phones from threats. Also, add mobile device security to the cybersecurity training program and offer your team access to a Virtual Private Network (VPN) and virus scanners. 
6. Operational Technology (OT) Attacks
Operational technology is the hardware and software system that monitors and detects changes in industrial processes, systems, and equipment. Huge targets for cybercriminals are Industrial Control Systems (ICS), which are major OT components. Data security and actual damage are the primary sources of worry. 
For example, a hacker may gain access to the New York water system. The hacker manipulates the water's chemical balance to make it more acidic and have a statewide impact. Organizations should have policies to prevent such tragedies and respond at once to curtail the effect. 
7. Increased Internal Cybersecurity Hazards
Internal cybersecurity threats arise from negligent actions or malicious intentions of disgruntled or former employees. These insider menaces are a major concern because they implicate somebody with privileged and trusted access rights to data. 
Common insider threats include: 
Physical theft of company equipment and devices 

Unauthorized use of devices that create risks such as virus infections and malware attacks

Deliberate and inadvertent data sharing 
Some strategies to combat these risks are: 
Employee training 

Installing strong security protections, such as Endpoint Detection and Response (EDR) and Data Loss Prevention (DLP) tools

Tightening access control 

Encrypt data and devices, and even allow remote wiping 
8. Data Poisoning
About 35% of businesses are using AI in their operations, and 42% are exploring the technology. While AI opens up new possibilities for companies in all industries, hackers are taking note.
Cases of AI system data poisoning are increasing as cyber attackers find ways of injecting corrupted data that skews result inquiry. Data poisoning is an additional risk for corporate systems, and continuous monitoring of AI results is one way to stay safe. If the results are significantly different from what you've been getting in the past, question the integrity.
How Your Web Hosting Helps Secure Your Website
Hackers that breach your website security can do a lot of damage. They can corrupt the site, steal valuable personal information, and cause irreparable damage to your brand reputation.
So, how does web hosting provide security for your website?
Using SSL Certificates
Secure Socket Layer (SSL) certificates allow web host providers to protect transferable data. Sites with an SSL certificate start with "HTTPS://" where the S is for secure.
Websites that ask for and require personal information, such as email addresses and credit card information (especially e-commerce pages), need SSL certificates to ensure a secure connection.
Regular Hardware and Software Updates
Hackers are always looking for new ways to hack into hardware and software, and old security protocols are a risk. Web hosts regularly update their systems to stay a step ahead.
Some providers employ colocation services and have fully managed dedicated server boxes. Others, however, leave the task of updating software and hardware to staff.
Provide Data Backups and Easy Recovery Measures
You should not lose all your data and start from scratch in case of the website hacking or crashing. The ideal web hosts offer physical and digital backups.
The physical backup occurs in a second location when the current server is compromised. A digital backup of your site helps restore to an earlier working version if something goes wrong.
Conclusion
These are just some of the biggest cybersecurity trends and threats predicted for 2023. The numbers show individuals and businesses must be more vigilant when drafting their cybersecurity approaches.
However, improved cybersecurity depends on a reliable host. See my hosting reviews to learn about the different security options available.