Online marketing has been changing the game for the real estate industry.
How to market real estate online should be a top priority for every real estate agent, especially during this social-distancing era. A National Association of Realtors (NAR) study showed the importance of promoting your properties on digital platforms.
The study found that searching online for properties was the first step in the purchasing process for 41% of recent buyers. In addition, 73% of buyers interviewed the first real estate agent they found during their home search. Thus, it is vital to create an excellent first impression to survive and thrive in the digital marketing world.
How Real Estate Industry Thrives Online
As a property owner or a real estate investor, it is necessary to understand how the real estate industry thrives online. The pandemic forced many businesses, including the housing sector, to seek new ways to make a sale.
Real estate agents gradually turned to webinars, video meetings, and online chat rooms to reach prospects and clients. The housing industry found success by adapting to the new online protocol. Here are three factors explaining how the real estate industry thrives online:
1. Establishing Connections
Realtors use their digital real estate business to connect with clients and establish reliable relationships. The key to a successful connection lies in adding human and personal touches to your communication.
For instance, you can send your clients an email to see how they are doing. This strategy helps customers view you as a person, not just a robot sending emails.
2. Building a Reliable Reputation
The real estate world thrives online because agents get back to the basics and focus on their brand reputation. Generally, a prospect's first step when seeking a new home is research. Hence, building your brand online and getting top ranks in Google searches helps the property industry to thrive.
The realtors get their online reputation from their reviews, websites, and social media platforms. This method promotes real estate business success because clients get familiar with your online brand.
A reliable reputation with outstanding results means customers will begin their home purchasing experience with you on the right foot.
3. Optimizing Customer Experience
The housing industry thrives in the digital world by optimizing the customer experience. They state that a customer is a king in the marketing sector.
Optimization is a strategy adapted in private and commercial real estate marketing to help realize this quote. It is vital for running a business online, determining website traffic, search engine ranking, and satisfactory user experience.
The real estate websites continue to improve their experiences, ensuring they maintain traffic to thrive in the online arena. It requires hard work and commitment, where you view your site and systems through an unbiased lens. You place yourself in homebuyers' shoes and correct the points where the experience is inconvenient, time-consuming, or flawed.
Ways To Market Your Real Estate Business Online
Most companies are shifting to the online world, adopting marketing approaches to reach their target audience. Similarly, the housing industry increasingly searches for innovative real estate marketing ideas to grow in the digital market.
Implementing quality online marketing strategies is essential to transforming your business into a success story. For instance, the rising tide in digital transformation caused realtors to optimize their websites for mobile.
Optimization ensures you create a seamless web experience to attract prospects while keeping clients. Constantly monitoring your competitors is another winning tactic in the online marketing battlefield by helping you become more innovative.
Aside from these, what other real estate marketing ideas can you adapt for your business? The following are 15 ways a real estate business can use to succeed in the online seller's market:
1. Create a Strong Presence Online
It is critical to create a strong presence online by building a solid foundation of knowledge. You want the majority of your marketing ventures to occur online. Most people will try to find a property via digital means, meaning a strong online presence will deliver exceptional results.
You want to develop a skill and mindset compatible with digital strategies and platforms. A good understanding of various platforms and methods allows you to recognize the best options for your real estate business.
For example, you know that the knowledge and mindset needed to market on Google are entirely different from those applied to Facebook marketing. This understanding lets you recognize when to hire professionals to achieve your desired outcomes.
2. Get a Good Website Hosting
An excellent website hosting service is vital for conducting an online real estate business. Without a good host, your website may experience downtime, lag, or be otherwise unreliable. A good selection ensures your website runs smoothly, delivering an optimal client experience.
A quality website hosting platform lets you attract and maintain good website traffic, SEO ranking, and overall performance. They often say you do not get a second chance at a first impression.
An excellent host helps you merge digital marketing techniques to make your business stand out in the housing market.
3. Consider Geo-Targeting Campaigns
Advertising works best when the right customer sees it at just the right time. You can use geo-targeting to ensure you deliver your business' custom content to the target demographic.
Geo-targeting first creates a geo-zone, an area set as the target for the marketing campaign you create. When a person moves into that zone, the ads or marketing campaigns are delivered to the person while they're still a lead.
Geo-targeted ad campaigns can make your business memorable for the people who live in the area or are visiting. This is a great marketing strategy for someone wanting to hone in on a specific audience and location.
4. Use Email Marketing
Email marketing is an approach you can use to create email newsletters for prospective clients. This strategy is crucial to succeeding in real estate marketing since it provides an audience that is entirely yours.
It lets you continue marketing to your audience on your terms, providing an avenue for growing a substantial asset.
You want to build value when sending people messages, meaning you give valuable content without excessive promotion. In addition, you want your newsletter to feature a good content schedule that engages and interests the audience.
It does not need to be complex, covering themes like updates on listings and local real estate news reports.
5. Create a Website and Blog
Creating a website allows you to show a potential client what you have to offer. A good recommendation is to include listings on your website and regularly update them. You also want to incorporate something unexpected that sets your site apart from the competitors.
Once you have a website, you can build a blog with infographics, creating content optimized for SEO.
It is vital to make your website convenient by making it easy to navigate. This step ensures your articles appear in user search results each time, boosting your reach and lead generation efforts. You can also include links to your profile pages, leading visitors to learn more about your business.
6. Have Social Media Presence
Many people spend plenty of their time on social media, so it is essential to have a solid presence on the platform. Although users do not primarily use the platforms to purchase property, proper strategies ensure your label can reach their eyeballs.
You can build a brand on social media by posting engaging and relevant material.
A social media strategy is to offer significant content like educational guides that attract people to visit your site. For instance, posting entertaining and funny memes causes users to want to subscribe to your page.
People will associate you with engaging and funny content, willing to purchase from you based on your personality. You can also expand your profile further when impressed users share your content with other users.
7. Stay Active on Twitter and Instagram
Twitter and Instagram feature some of the most famous people posting every day. They present a reliable opportunity to access a broad audience by building your brand.
If you have a viral tweet, you could get thousands of users visiting your site. Instagram operates similarly, enabling you to promote your listings and contact homebuyers.
Research shows that 90% of users on Instagram follow a business. You can run a paid promotion on the platform to reach even more people. Instagram advertisements let you choose a budget and target audience.
Moreover, it permits you to pick a post type, such as video, image, and carousel. You can incorporate targeted hashtags to ascertain your post reaches your desired audience.
8. Apply SEO Techniques
The key to successfully optimizing your website is finding the right target keywords. Proper application of SEO techniques is among the most reliable methods of getting a steady traffic stream to your site.
SEO techniques enable you to create SEO materials and content to drive your site to the top of Google rankings.
Ahrefs and Google Analytics are quality examples of tools you can depend on to improve your SEO utility. They help you find search terms your prospects are looking for and can inspire you with fresher marketing ideas.
Google Analytics allows you to understand a client's journey across platforms and devices, letting you see where to enhance performance.
9. Optimize Google and LinkedIn Ads
Optimized Google and Linkedin ads can assist in getting reliable traffic to your real estate website. Both Linkedin and Google can drive traffic and engage audiences, so they move from just a hit to a possible lead.
With either Google Ads or Linkedin Ads, it's important to run multiple variations within the same campaign while keeping all but one of the characteristics the same. This technique is called A/B testing; you can look at the metrics that come back from the advertising and see which single change made the biggest difference.
Try rewriting older advertisements to shift how customers perceive them. Active voice shows the subject acting rather than having something done to it. It can encourage someone to click an ad because it makes a bolder, more convincing statement.
10. Host a Webinar
Organizing a webinar can help prospective sellers or buyers in your region understand the current market. It reflects your expertise in the real estate industry, fostering trust by establishing your brand as reliable and knowledgeable.
You can host the webinar alone as a business or co-host with other partners.
Co-hosting leads you to work with a local home improvement provider to prepare a relevant webinar. You can decide to cover a topic that might greatly interest your target audience.
For example, you can address the top four most significant home improvements sellers can make to boost sales performances.
11. Use Facebook Advertising
NAR statistics show that 74% of real estate agents use Facebook for their jobs. This social media engagement platform considerably increases your chances of success via its significant global user base.
A Facebook ad is similar to pay-per-click (PPC) marketing. The difference is that the former enables you to use images, whereas the latter provides text information.
It is imperative to master Facebook advertising for your real estate marketing efforts to be effective. You can use real estate customer relationship management (CRM) software to automate repetitive tasks and streamline your sales.
The client CRM software lets you equip your sales force and management efforts. It allows you to know and serve your customers better on the platform.
12. Incorporate Quality Footage
You want to use quality footage to showcase your property online, showing what appeals to prospective buyers. One of the best ways of presenting an impressive virtual space tour is via drones.
You can also find a drone photographer to create a 3D representation of your property. Virtual tours and 3D maps allow clients to make well-informed decisions without visiting the physical property.
Videos are an essential marketing tool that can set you apart from your competitors. You can create videos yourself apart from drones without denting your wallet. For example, you can utilize video software to record a pitch to potential clients via a laptop.
13. Use Reviews and Referrals
They typically say the proof is in the pudding, and satisfied previous clients are a perfect resource for boosting your credibility.
You can contact a customer whose sale went well and obtain a paragraph-long blurb addressing how helpful you were. After that, get their permission to post it before placing it on your site.
Referral marketing refers to using word of mouth and recommendations to develop a real estate customer base. It involves getting your biggest supporters to assist in spreading the word about your brand to those who trust them.
You can send an email requesting satisfied clients to inform anyone around them searching for a property to contact you.
Add case studies to your website and give your potential customers more opportunities to read about your past successes. These can be short explanations of sales that have gone well or full pages detailing what happened in one particular sale and what your real estate business learned from the experience.
14. Build a Real Estate Network
Networking is a strategy implemented by different industries in the marketing world. Using it in real estate marketing means sending prospects to your counterparts when your business cannot serve them.
It also supports the opposite scenario, giving a convenient method of getting a steady stream of customers hassle-free.
Find counterparts at local in-person industry events like auctions, Chamber of Commerce meetings, and trade shows which perform tasks that would benefit your clients.
You already have the industry in common, but you probably occupy different parts of it. Since no one person can do everything, you have a chance to pick up where they can't reach. Look for opportunities on social media and use social media to keep in contact with people you've met.
A network aids you in establishing solid relationships and creating trust with your customers. This connection leads people to want to talk about you to their loved ones, extending your reach.
15. List Your Properties on Major Real Estate Websites
Listing your real estate on popular websites is one of the simplest marketing options, turning you into a big agent. You can add private or commercial business real estate on major sites like Zillow. Zillow real estate agents enjoy access to a massive audience.
Websites like Zillow include steps for creating a profile to enhance user experience and convenience. Incorporating your properties into such websites lets you reach millions of visitors monthly.
It can transform your real estate business without requiring you to undertake other forms of marketing. These listings also increase your chances of getting a client when advertising your next property.
Website Hosting and Real Estate Marketing
As mentioned above, finding a good website hosting platform is critical to real estate marketing. A good web hosting service is the primary tool that keeps a real estate business' online presence in tip-top shape. It's the very first thing to consider before building a high-quality website.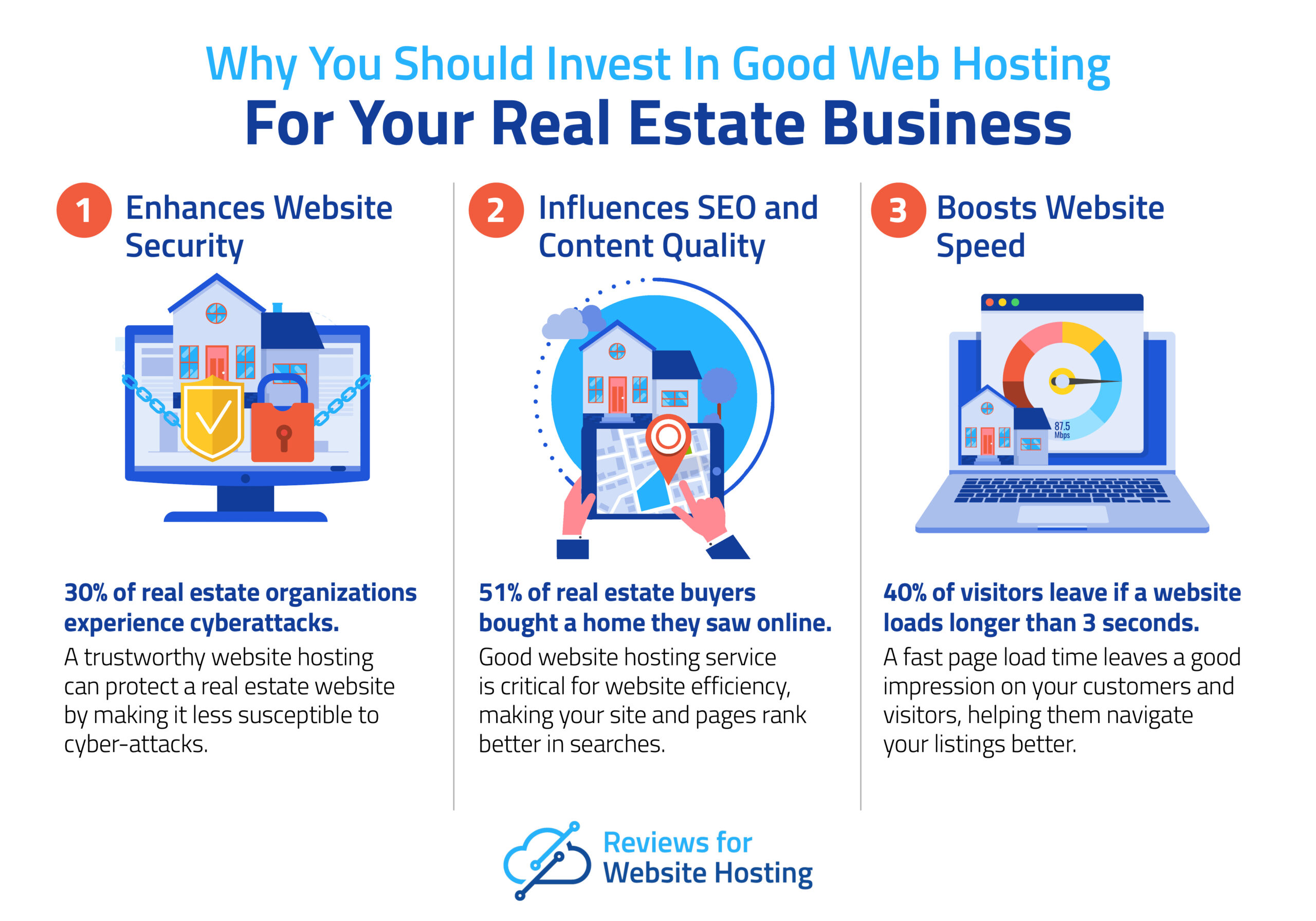 Below are three primary ways showing why it is an effective real estate marketing strategy:
1. Enhances Website Security
A survey recorded that 30% of real estate organizations experience cyberattacks. However, only 50% of them are ready to prevent or mitigate such attacks.
When attacking a website, all a hacker needs is one vulnerable point. A trustworthy website hosting package makes your site safe by making it less susceptible to cyber-attacks. It delivers constant security checks and support systems to ensure you run your website safely.
If you have a hacked website, it takes time to get matters back on track. Consequently, your SEO ranking takes a hit, leading to further losses of potential customers. Realtors should pick a hosting platform wisely and thoroughly read the security measures beforehand.
2. Influences SEO and Content Quality
According to a 2021 study, about 51% of real estate buyers bought their home through online searches.
SEO performance is among the best ways of ensuring that your website is doing well. A website hosting service allows you to boost efficiency, ranking your site higher in search engines like Google.
The hosting platform assists you in properly using SEO techniques, giving you a website in excellent condition.
Many people lose traffic to their websites because of performance issues that make navigation difficult. However, a hosting service enables you to build your website strategically with content marketing tools.
It makes it easier for users to understand and navigate your site. The website hosting platform helps improve your real estate content and content marketing plan.
3. Boosts Website Speeds
In today's customer-centric world, every second counts. In fact, 40% of website visitors leave a website that takes longer than 3 seconds to load.
Website hosting influences website speeds, making it an essential consideration when pondering how to market real estate online. Efficiency is necessary when you want to maintain excellent overall performance.
It aids you in facilitating good website traffic to boost your SEO ranking.
Selecting an appropriate hosting platform helps you improve your site and customer experience. The fast-page load time leaves a good impression on your customers and visitors.
It also allows you to attract more potential clients to grow a small business in this competitive market.
Top Web Hosting Providers for Real Estate Business
The various web hosting providers available can make it challenging to find the right solution for your property website requirements. It is critical to find a suitable option, ensuring you reach and meet your target audience's real estate demands.
An excellent hosting platform offers access to several features that let you tailor your site for the best customer experience.
Below are five of the top web hosting providers in the digital world. They can help you manage and turn your online real estate business into a success story. Understanding what they offer lets you know the option that best suits your housing business needs.
WP Engine hosting offers an integrated WordPress hosting service, giving all the necessary features for real estate careers to grow.
It exclusively focuses on WordPress hosting, meaning it does not support non-WordPress sites. Nevertheless, it incorporates many integrations to customize your site thoroughly.
WP Engine provides convenient access to insights and data concerning your website and visitors. You can use this feedback to understand your target audience profile and tailor your site to the client's needs.
The hosting platform also backs your site with top-grade security, ensuring your online business remains safe and reliable. It includes incomparable customer service to satisfy your demands as a first-time user or an experienced online real estate agent.
Features:
A+ BBA rating
Free WordPress themes
27% faster load speeds
60-day guarantee
Bluehost is a quality hosting provider with a user-friendly dashboard and 24/7 customer support. It presents an all-in-one solution, letting your online property business proceed quickly via marketing, optimization, and analytical tools.
The features facilitate scalable development with security, reliability, and backup data protection.
Bluehost also provides shared hosting if you run a small real estate website or blog. It incorporates WooCommerce hosting to support online stores, enhancing convenience when marketing your real estate brand and products.
It managed WordPress hosting at a low monthly rate, with most packages charging under $15 each month with 36-month terms. Unlike Bluehost, many hosting providers bump up the prices after 12 months of service.
Features:
One-click WordPress
30-day guarantee
A+ BBA rating
Unmetered bandwidth
InterServer's objective is to offer reliable and appropriate data and hosting services at affordable rates. It promises its clients up to 99.9% network uptime and 100% power uptime.
Its availability and reliability make it a suitable option for the ever-competitive digital real estate industry. This provider gives free migration services and SSL certificates, freeing your budget to invest in luxury real estate sites.
InterServer has pocket-friendly plans with quality features like unlimited storage, transfer, and email. Its versatility allows you to maintain up to 20 different websites, increasing comfort when running a sizable real estate office.
InterServer has a remarkable network delivering 10Gbps Ethernet connections to suit the commercial real estate industry.
Features:
24/7 US-based support
30-day guarantee
Price lock guarantee
Free SSL certificates
iPower is a hosting company that offers simple and comprehensive solutions for small and mid-sized property businesses globally.
The American service provider owns two reliable and state-of-the-art data centers in Boston. These centers feature superior hardware, top-grade load-balancing technology, and redundant power systems.
iPower has plenty of options to let you customize your website for better customer experience and content marketing solutions. The company provides seven hosting plans with unique features to enhance your digital marketing services.
This variety enables you to pick the most suitable offers for your rental property business. After choosing a plan, you can also add specific services, aiding you in eCommerce, marketing, and website management.
Features:
Unlimited bandwidth and storage
30-day guarantee
BBA rating of A
24/7 security
IONOS hosting, formerly 1&1, is a hosting service provider with various plans, including free options. You can get free domain registration and email addresses, facilitating affordable real estate email marketing.
Furthermore, IONOS offers a branded email account, helping show prospects that you are a valid realtor or a business owner.
IONOS has an uptime guarantee to ensure your real estate website stays up as often as possible. It also provides impressive loading speeds, helping you attract clients and visitors to your site.
An excellent site speed is among the essential tools Google uses to determine its rankings. IONOS is suitable for various clients, from small business email hosting to growing real estate companies.
Features:
30-day money-back guarantee
Email account
Dedicated and free wildcard SSL certificate
Unlimited storage and bandwidth
Conclusion
Marketing real estate ideas online require you to understand how to create and run an effective website.
Whether you seek private or commercial real estate marketing strategies, it is necessary to learn digital promotion tactics. The ideas provided above provide a way to impress potential customers and attract them to your real estate website.
The article also presents various web hosting providers to help you develop and maintain effective content marketing.
Check out our full reviews to help you know the right hosting platform for your online real estate marketing needs.