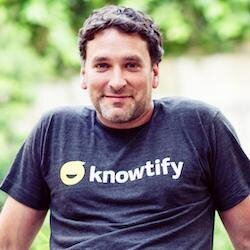 Latest posts by Paul Wheeler
(see all)
If you don't have a website in this day and age, you might as well be invisible.
It doesn't matter if you're a small business, a Fortune 500 company, or just an individual trying to make a name for yourself. If you want the world to hear about you, you need to have some kind of digital presence. The truth is, in order to be successful, you have to have a good website which means you also need a good web hosting service.
There's a lot of different options out there and sometimes it can be a bit of a head scratcher trying to figure out what's best for your site's specific needs. If you're a business for example, you'll want space to grow and an email address associated with your website. On the other hand if you're a blogger, simplicity and low costs may be your main priorities. In that case, you'll want less services than a large business would. 
Determining exactly what you need can be confusing, but don't worry because we laid out all the website hosting tips you need to know! We have put together everything you need to save time and money while making the best choice for your site. 
What Is The Difference Between Web Hosting And Web Building?
The first and most important question to ask is, are you looking for a web hosting provider, a website builder? Or how about both? Don't worry if you still don't know the difference, we'll walk you through it.
A Web Host:  Is a type of provider that serves as a home to your website and allows it to reach the worldwide web. A web host can also host your company's mail, files, drives and other content. Once you determine a web host provider you'll choose a hosting plan which will determine your server space and any other services you may need. 

A Website Builder: Is a set of tools you can use to create your website. Website builders allow you to quickly create and customize a high quality site without extensive knowledge. So, if you're looking to create a high functioning website without spending a fortune on developers and designers, website builders help you take a DIY approach! With tons of templates, apps and other functional features these make creating a professional website quick, easy and inexpensive. 

What if you need both? There are lots of great options out there that provide you with both solutions! Some examples of website builders that are also web hosting providers include Wix, Weebly, Squarespace, Shopify, and Blogger.
The most famous example of a web builder is WordPress. It's one of the most popular web builders out there because of its simple, user-friendly experience and because the WordPress hosting requirements are minimal. Plus there are tons of reliable web hosting services with word press hosting as an option like DreamHost, A2 Hosting, SiteGround, HostGator, and InMotion Hosting just to name a few. 
If you're looking to add basic technical tasks to your WordPress website such as updates, backups, uptime, speed, and security there are tons of great options from host providers like Bluehost, GoDaddy, WP Engine, and GreenGeeks. 
But what if you're not interested in WordPress as a sitebuilder? No problem! In that case you can always find a web host capable of integrating an alternative web builder.
PRO TIP: Before you decide on a hosting provider, be sure to check the requirements of your preferred web builder. It would be a waste of valuable time and resources to discover you've chosen a web-building platform that isn't compatible with your preferred host server.
Website Hosting Tips: Know 5 S's Of A Successful Web Hosting
Knowing exactly what you need can be hard but we made it easy with these 5 simple website hosting tips! All you have to do is follow the 5 S's of Successful Web Hosting.
Security
This is one of the most important factors to think about when researching host providers. Protecting your data and your customer's data is extremely important in the age of the internet. So it's crucial that you put measures in place to protect you and your customer if something goes wrong. Important security features like firewalls, backups, and user authentication can help prevent dangerous breaches in security that can cost you time, money and customers. 
One simple option that can make a huge difference in the security of your site is an SSL certificate. SSL (Secure Sockets Layer) protects data with encryptions. These encryptions ensure that the connection between a web server (your site)  and the web user (your customer) is safe and secure. There are two primary SSL options, free and paid. The free SSL certificates that do the same primary job as paid SSL certificates with minor differences. Depending on the purpose of your website, you might benefit from either.
Speed
Loading speed is crucial for attracting and keeping site visitors. No one wants to come to your page and stare at a loading bar. The truth is, if you want your website to be successful, it needs to be fast. The most important search engines like Google only promote pages with faster than average loading speeds. SEO initiatives can only do so much if your page doesn't load fast enough. Long story short, a slow site could end up costing you a fortune in lost traffic. 
Storage
The amount of storage your site needs depends on the number of files you have or whether or not you're sharing a server. But think of it this way, the more storage you have, the more room you have to grow. 
Choosing the right amount of space can save you money in the long run so before deciding what type of storage you need, carefully consider how much space your site needs right now, and how much will be needed when you grow. 
Support
Regardless of the size of your website or its intended use, your web host provider should be available to assist you with any minor issues that occur day-to-day plus the occasional crises that can pop up from time to time. No matter the problem, big or small it's important that you reach them! Maybe you're a business experiencing a problem during customer service off-hours, it's important that you're able to contact them or troubleshoot. 
There are other support features that could benefit you such as language options and time zone. Customer support in English isn't rare, but you might prefer speaking with a customer representative in your country or time zone. Do you primarily speak Spanish or French? If so, looking for additional language options could be beneficial to you! Either way, whatever web hosting solution you choose, their support system should make your life easier, not more difficult. 
Services
Any web host you choose will offer additional services. It's up to you to determine which are a must for your website. For example, if you're a business, email is a must so look for a hosting package that includes email. It's always best to have a professional email that integrates smoothly with your website! 
We mentioned before that a web builder isn't the same as a web host, so you might want to look for a hosting package that includes a web builder so you can have a seamless experience and integration. 
Another important service to consider is a domain name. While some web hosting service providers include a free domain name, others require that you purchase the domain separately. Therefore, it's less hassle to use a hosting package that includes a free domain, plus it can save you future costs.
Knowing these essential components will help you understand how your website host functions and how those functions impact you.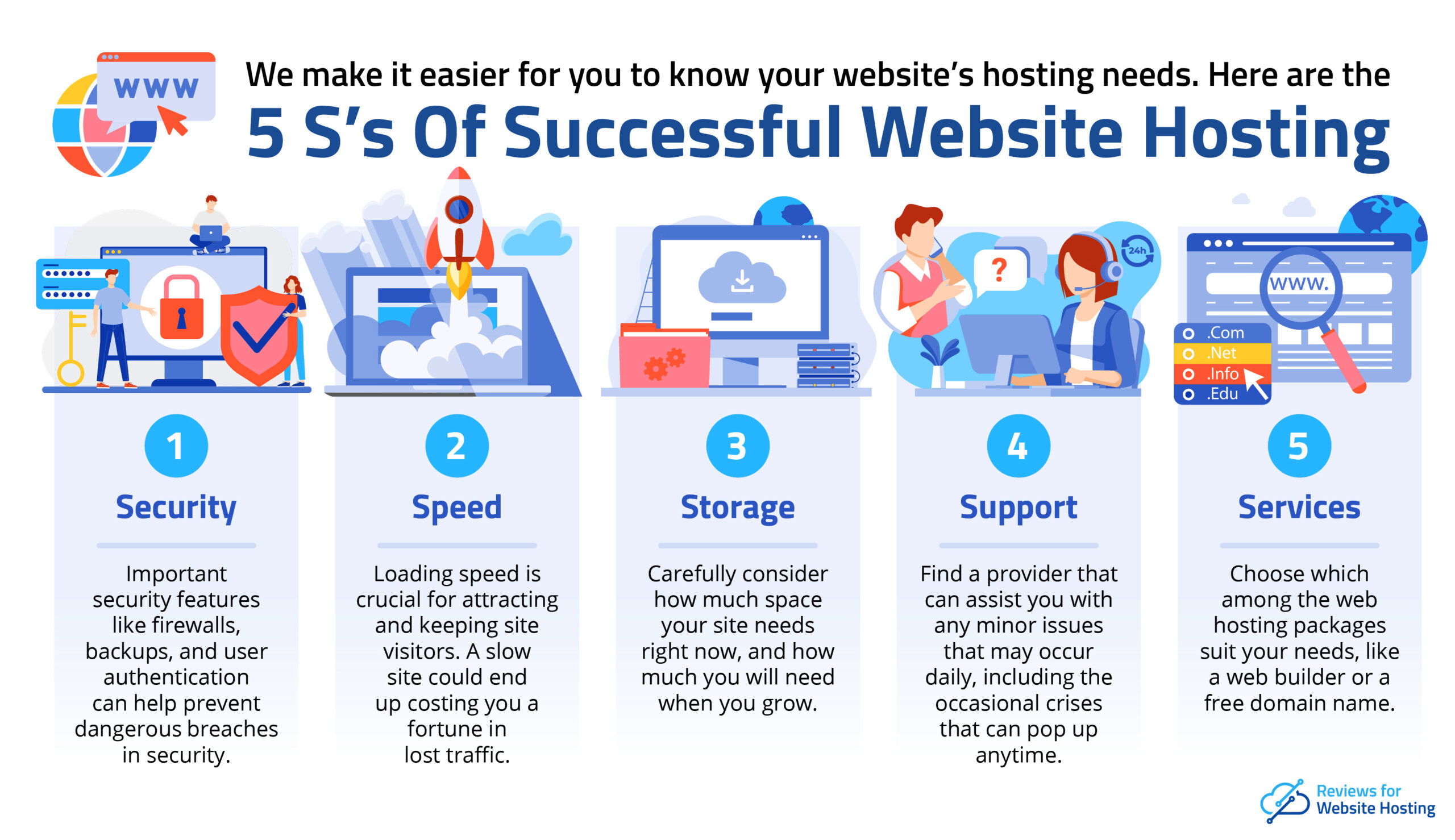 Consider These 5 Factors When Choosing A Web Host Service
UpTime
Uptime refers to the amount of time a website is operational. Downtime, which is when a website isn't available or functioning. The longer your website spends in downtime the more damage. One example of the costly effects of downtime is Amazon's one-hour downtime in 2018 lost approximately $99 million in sales. 
Your website might not be as large as Amazon, but uptime can determine the success of your business or blog. Downtime can deter potential site visitors, frustrate customers, and incur costs for fixing the problem. Generally, the goal is to achieve a rate of 99.99% uptime. Of course, there is no such thing as perfect, but you want a web host that prioritizes service availability. When researching your preferred web hosting plan, find out if they include uptime guarantees.
Unmetered Bandwidth
Something to watch for in your web hosting option is unmetered bandwidth. If you experience an increase in site traffic, some hosting plans have fees or limit data speed. With unmetered bandwidth, an increase in site visitors won't increase your costs.  Unmetered bandwidth means the web host charges a flat rate instead of a price influenced by how much data you use. 
On the other hand, unmetered bandwidth doesn't mean it's unlimited bandwidth. You see, unmetered bandwidth only refers to the amount of data transferred, not the speed at which it's transferred. That means some host providers can actually slow the rate of data transfers. But with true unlimited bandwidth, you get unlimited data transfers within a specific time frame so you don't risk your provider slowing you down and costing you money. 
Regardless of which option you choose, carefully read the contract between you and your web host provider, there are still additional fees that can be inquired depending on your specific contract. For example, unlimited bandwidth plans are often an option on shared servers. This means you're sharing bandwidth with other website owners. So in theory you can use as much as you want as long as the other website owners aren't maxing out their bandwidth at the same time. It's likely you'd never run into this problem but it's important we give you all the facts when it comes to choosing the right provider for you. 
Server Location
A good rule of thumb is the closer you are to your servers the better. Yes in the digital world you can get servers anywhere but location does in fact impact your website's speed. Using more servers will increase the speed, but the location of those servers changes your relationship with that speed. Long story short, if your servers are on the other side of the world, you'll have slower speeds no matter what. 
So, If you're in the US, it's better to choose a host server with locations within the US. If you're a business spanning the globe, you'd want to invest in more server capacity and a broader range of areas. If you're a small business with a limited shipping range, choose a server with a domestic server location.
Pricing and Renewal
Host packages and bundle building can be really confusing. So here are some good rules of thumb to go by that can make the process easier. 
Rule #1:  YOU control the budget.
A website is an investment, as the website owner, you determine the budget and what features are worth paying for. You can always start small and build as you grow. 
Rule #2: Skip the bells and whistles.
When evaluating a host's pricing it's crucial to not only look at the overall cost but the included features too. Only pay for tools you know you're going to use instead of adding bonus features that only sound useful. 
Rule #3: Remember 'Renewal'
An often forgotten cost is account renewal. It's easy to forget but can end up costing you big. Depending on your plan you'll either be charged monthly or annually but what's often overlooked is that the price of renewing your account is often MORE expensive than your initial payment. 
When you sign up for a web host be sure you know exactly how much it will cost to renew, and if possible, consider long-term deals rather than short-term deals. It can end up saving you huge! 
PRO TIP: Most hosting companies will offer you a discount if you sign up for a longer termed contract with their platform. 
Mobile Capability
Did you know 61% of website visits in the US come from mobile devices like cell phones? Just because a user can access your site on their mobile phone doesn't mean it's going to be the same quality as it would if they viewed your site on their computer. 
Poor mobile performance is a leading cause of missed conversions. Losing just one valued viewer to a poor mobile display is a huge waste of your precious time and money. Luckily testing your mobile web page performance is easy and free thanks to Google's free mobile-friendly tool!  
PRO TIP: For a mobile friendly website use responsive designs and fast loading speeds. Always make sure your web host has a web building tool that allows your viewer to seamlessly navigate your site from any mobile device! 
5 Most Popular Types Of Web Hosting
The type of web hosting provider you choose will determine what hosting services are available to you. In this section we'll go over the web hosting types you need to know to make the right choice for your site! 
1. Free Hosting
Free might seem like the smartest financial choice but it's not always going to be the best option in the long run. A free website hosting service involves sharing your website with ad space. That means annoying pop-ups or banners that can potentially deter your visitors. 
Another downside is that there's no guarantee that service will last. Your provider can choose to discontinue your space or even begin charging you at any time without any given notice. If you still decide a free hosting service is for you, make sure you have a backup plan in place in case your current provider becomes no longer available. 
2. Shared Hosting
This is the most common choice amongst small businesses and individuals looking for an affordable but reliable option. By sharing a server with other websites you can get a better rate, more support, and more than enough space. 
However, there will be usage restrictions. Shared web hosting may result in slower loading speeds during times of high traffic because of the shared server. Plus If your business or website space needs to grow, there will be a limit to how much you can expand. The web host may limit your size or ask you to upgrade, which will increase your cost so keep that in mind when choosing a web host provider.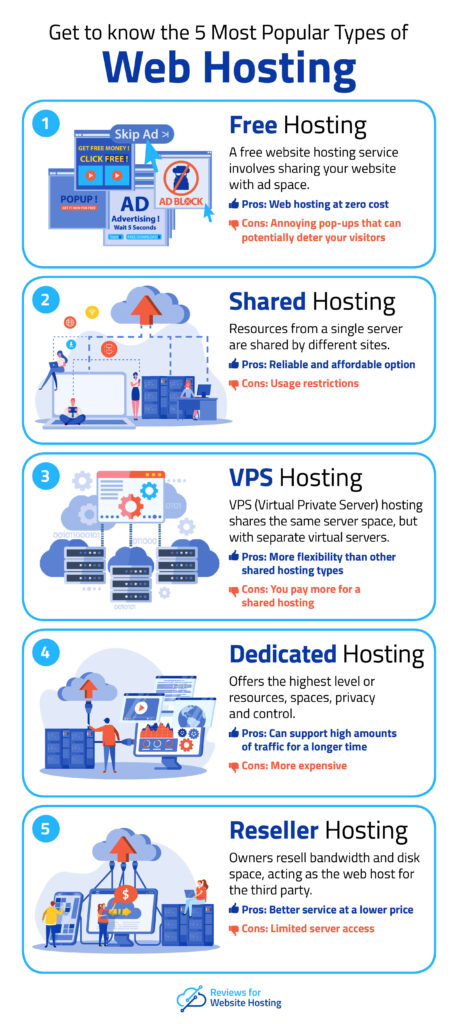 3. VPS Hosting
VPS (Virtual Private Server) hosting or cloud hosting is similar to shared hosting in that you share the server space with multiple websites. It costs more than shared hosting however because it's more independent. You still share bandwidth but with added flexibility.
This is for those who want the benefits of shared hosting with more personal space to grow. One of the major advantages of VPS hosting is that you're protected from dangerous server limitations that can hold you and your site back. For example, If one website on your server is experiencing high traffic, it won't drastically impact your website's speed. 
Think of it as a strip mall…
VPS hosting is like being store neighbors at a strip mall. Your next-door neighbor or the store three doors down won't negatively impact your day-to-day business.
However, you share a parking lot and some of the same walls. So if they have a blowout sale and have tons of traffic to their store, it won't be until the parking lot is full that you'll have to worry about how many spaces belong to your customers or theirs.
4. Dedicated Hosting
If you're someone looking for a ton of space and a ton of server resources then dedicated hosting is for you! With dedicated hosting, you can support high amounts of traffic for longer periods of time. But this increase in stability and server capacity comes at a cost. It's important to consider whether a dedicated server is within your budget. 
If you anticipate having high traffic regularly, a dedicated server will be essential to the success of your growing business. You also get the benefits of increased support, speed, and bandwidth. 
This could be the right choice for anyone, even a small business that can prioritize space, speed, and stability into their budget. 
5. Reseller Hosting
Reseller hosting is the perfect way to indirectly take space on a server. Instead of purchasing a hosting service, you can rent space from a middle-man. Account owners resell their bandwidth and disk space, they act as the web host for the third party. 
This allows you to get better service at a better price.  It's important to note as the buyer you won't know if the host server is a reseller hosting or not but that doesn't matter to you because you'll be getting space and service either way.  
PRO  TIP:

Utilize free trials! If you're comparing a handful of web hosting providers, it can be tricky to weigh the pros and cons without actually trying them first. 

You don't have to jump into anything headfirst, you can take your time and shop around, test the waters. There are plenty of providers that allow you to sign up for a free trial of a hosting package. You can test out features, check out customer support, or discover if the bandwidth or storage is suitable for you.

 If you like the hosting service, buy it. If you don't, you haven't wasted money, and you might have a better idea of what you need from a hosting service.
Now For The Fun Part, Here's A List Of Our Top Website Hosting Providers
Now that you have all the facts on what you need and the right things to look for in a provider. We did the hard part for you! We tried tons of the top web hosting platforms and weighed out the pros and cons so you can save your valuable time! 
If you want our full-length reviews you can find them HERE! 
Below is our brief overview of the best web hosting services you must try, enjoy! 
Hostinger
 The Hostinger Premium Shared Hosting includes a free domain, 25,000 monthly visits, managed WordPress, free email service, and a 30-day satisfaction guarantee.
Features:
Free SSL and backups

User-friendly website builder

Automatic website set up

Fast LiteSpeed servers

Google Ads credit

Unlimited bandwidth
HostGator
HostGator is a user-friendly shared hosting provider. They have excellent 24/7 customer service and fast loading speeds.
Features:
Free SSL and domain

Unlimited storage

99.9% uptime guarantee
Bluehost
Bluehost Has WordPress integration that allows Bluehost to add a custom WordPress experience with smooth website design tools
  Features:
Free SSL and domain

24/7 customer support

99.9% uptime guarantee
GoDaddy
GoDaddy has been a top website host for a long time. This host has international server locations and a free domain for customers. 
Features:
Unmetered bandwidth

24/7 customer support

99.9% uptime guarantee
A2 Hosting
A2 Hosting  offers all types of hosting with robust plans, especially for WordPress. However, it can be a more expensive option.
 Features:
Fast loading

Free SSL and domain

24/7 customer support

Managed WordPress
DreamHost
DreamHost has reliable security features, including domain privacy and free SSL certificates. In addition, monthly data transfers are unlimited.
Features:
Free domain

Daily backups

WordPress-optimized

100% uptime guarantee
InMotion Hosting
InMotion Hosting offers every type of hosting, and all plans offer unlimited email. In addition, shared and WordPress hosting plans have unlimited data transfers.
Features:
Local 24/7 customer support

Privately owned

DDoS protection

90-day money-back guarantee

99.9% uptime guarantee
 SquareSpace
Overall, Squarespace beats a lot of the competition as a mobile-friendly and user-friendly website builder. However, it has slower loading speeds than other web hosts.
Features:
Renewal rates are the same as the initial cost

Free SSL and WHOIS privacy

Easy DNS management

24/7 customer support

99.9% uptime guarantee
HostPapa
HostPapa has reliable shared and VPS hosting plans with unlimited monthly data transfers.
Features:
International server locations

Free domain and SSL

24/7 customer support

Fast SSD servers

Affordable add-ons
SiteGround
Shared hosting, cloud hosting, and email hosting are available through SiteGround. The web host also integrates smooth website transfers. 
 Features:
Fast speed

24/7 customer support

Managed WordPress

99.9% uptime guarantee
Final Thoughts
Now that we've covered all the basics, you have all the information you need to try some of the incredible hosting options we've recommended for you, You know what you need and what you don't need. You know what to look for and what to watch out for. Just remember, there's no right or wrong package, only what's best for you. And we've provided the top choices in the industry so there's nothing stopping you from making the best decision for the future of your website. 
Remember, you don't have to commit right away, shop around. We highly recommend you check out every host on our list, you never know which one could be your perfect match. 
Don't forget, always compare features and think like a site visitor when making a decision. Prioritize speed, bandwidth, and security! We recommend making a checklist and checking out every host on our review list to see if they offer the type of client support you need, or if they offer too many extra services you don't want. 
Make sure you read our full web hosting reviews and check out our resource library to answer any more of your web hosting questions. Now start at the top of our list and get started on finding your perfect web host!