Gone are the days when churches can rely on a no-frills, one-page website meant for announcements.
Nowadays, people like instant answers to other things like service times, upcoming special events, sermon catalogs, blogs, live sermons, donation pages, music selections, and so much more.
This makes it imperative for every church community to have a well-designed website, and finding the best church web hosting platform is an integral part of that process.
How To Choose the Right Hosting Platform for Your Church
Choosing the best website builder can take time. You need to find software that everyone understands but that is also affordable. It should also meet your storage needs, especially if you plan on making content available to site visitors.
Above all, it needs to be a hosting platform that anyone can use to construct a website.
Here's what to look for when deciding if the website builder is the right tool for your church.
1. Affordability
Running churches can be expensive. This isn't something congregants always understand, but if you operate out of an older building, you inherit considerable upkeep costs, in addition to other expenses like:
Water and electricity
Office supplies
Church vehicle maintenance
That makes it crucial that when looking for the best church web hosting, you find a platform that is affordable.
It's important to have a website that runs efficiently and looks good doing it, but it doesn't help anyone if it puts you out of pocket to keep the website running.
2. Intuitive Dashboard
Another consideration when looking for the best web hosting option for your church's website is software. Many platforms come with a dashboard, which helps you build your website.
However, when choosing a website builder, you need to remember that not everyone behind the ministry design is equally technologically savvy.
That makes finding a church website host that has an intuitive dashboard crucial. It ensures that everyone building the website can navigate it successfully. At their best, website hosting platforms should include a dashboard that even an untrained user can interpret.
3. Look for Inclusive Hosting Plans
When considering the best church web hosting software, inclusivity is important. You need a system that does more than host your church's website. It should also include:
Domain name
SSL
Storage space for older content
You must decide how much information you want to store on your website and how far back it will stretch. This is pertinent to website features like sermon catalogs or backdated live streams of services.
The more content you want to save to your website, the more space you need. This may affect the affordability and upkeep costs. So, be prepared to research several church website builders and discuss the maintenance costs with your vestry or equivalent.
4. Easily Downloadable
A less obvious consideration when searching for the best church website hosting platform is how long the download takes.
As with finding a platform with an intuitive, user-friendly dashboard that lets you build your website without complication, you also want a system that makes downloading as straightforward as possible.
Many platforms now use a one-click download system, which streamlines the process.
Additionally, these web hosting platforms should accommodate content management systems like WordPress or calendars easily. This is especially true if you plan to use a calendar to tell website visitors when services are.
5. Secure Domain Options
These days, people hand over all kinds of information online. This ranges from banking details for one-time church donations to your name and address for churches that require weekly form submissions to confirm live attendance numbers.
It's imperative that when building your website, you ensure that the information members provide remains secure and private.
Best Church Web Hosting Platforms
So, that's everything you need to know about choosing a hosting service. But what is the best church web hosting software, and why do they stand head and shoulders above the rest?
What immediately stands out about InterServer as a hosting company is its offer of free hosting for nonprofit organizations. This is ideal for churches since they count as nonprofits for business and tax purposes.
But that's not InterServer's only advantage. Another benefit is that the plans it offers are easy to interpret. Many website builders offer a range of tools depending on the per annum or monthly subscription you select.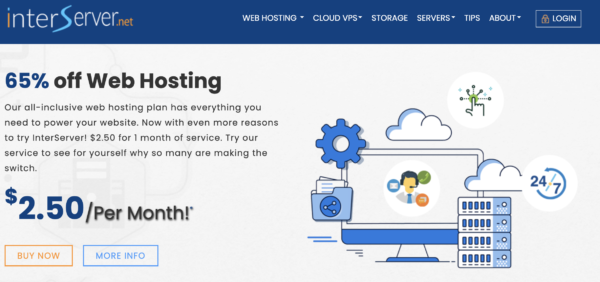 However, the only way InterServer's plans noticeably differ is in the amount of storage space they offer users. Similarly, there aren't a lot of bells and whistles with this website hosting platform. That may be a drawback for the more technologically advanced user, but it's an asset for a novice church website designer.
All plans come with several integrated benefits, including:
Unlimited bandwidth, storage, and websites
Complimentary SSL and CDN certificates
Routine backups
Inbuilt security
Features to warn you when the website is under threat
If your church meets this website host's nonprofit requirements, you can use it for free. If not, you can choose whether to pay an annual or monthly subscription.
InterServer also promises 99.99% uptime for the websites and networks it hosts. While some find the server can experience lags and slowness, However, many users consider it reliable and efficient.
Hostinger isn't free, but you would be hard-pressed to find a more affordable church website builder. It's also a straightforward website-building tool, whatever the needs of your faith-life site.
You can choose from several preexisting templates to give your church website a basic outline. From there, all you need to do is negotiate things like text boxes and media from the dashboard to your website pages using a drag-and-drop tool that allows you to customize your website design.
It's also compatible with various content management systems like WordPress and Hubspot. So, if someone behind your church website design is familiar with a particular CMS, they can capitalize on that and integrate their system of choice with your website hosting platform.
This is especially helpful for website builders who find the basic Hostinger plan restrictive. If that's the case, you can choose to integrate it with a WordPress-optimized plan that gives you some of WordPress's bells and whistles at a more affordable price.
Even without the extra benefits of WordPress, however, the site-building tools offered by Hostinger are intuitive.
But its primary attraction for many users is its reliability. This website building platform consistently performs well. It's fast, reliable, and offers several useful features, like:
Daily website backups
Inbuilt Cloudflare for safe, fast website connectivity
Pre-designed caching
Bluehost is another affordable website builder that integrates well with CMSes like WordPress.
Even if you are new to Bluehost, the company ensures it's easy to navigate. We appreciate that this website builder includes a checklist to ensure your church website has everything it needs to operate effectively.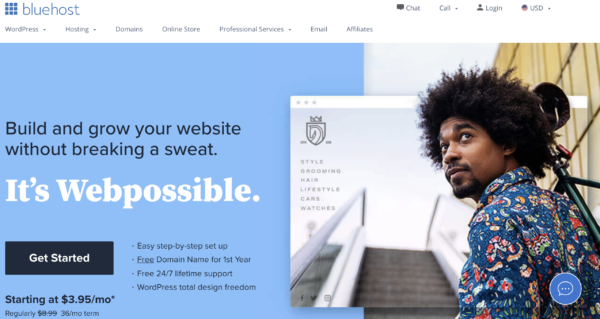 This includes a reminder to add links to your church's social media accounts to the website design.
Bluehost is more expensive than Hostinger, but only marginally. Moreover, you can choose between different Bluehost plans. Irrespective of the cost, all Bluehost's plans include:
SSL certificate
Domain name
Unlimited bandwidth
Most church websites run effectively on Bluehost's more modest plan. And even if you need to manage multiple church websites or require extra storage space, Bluehost performs reliably and seldom experiences outages.
However, unlike other church website hosting platforms on this list, it doesn't guarantee continual uptime.
Despite this, the website load time is still exceptional. As long as you guarantee a prompt loading time, visitors should have no issue navigating your church's website.
A2 Hosting is another of the best church website hosting options on the market. All its plans include up to 25 emails, which can be particularly handy for large churches that need to provide email coverage across a unified domain name for people like:
Church office manager
Organist/music director
Rector/pastor
Another advantage of A2 Hosting is that it has a comprehensive control panel that enables you to manage everything from the domain name you give your church website to the plugins you embed.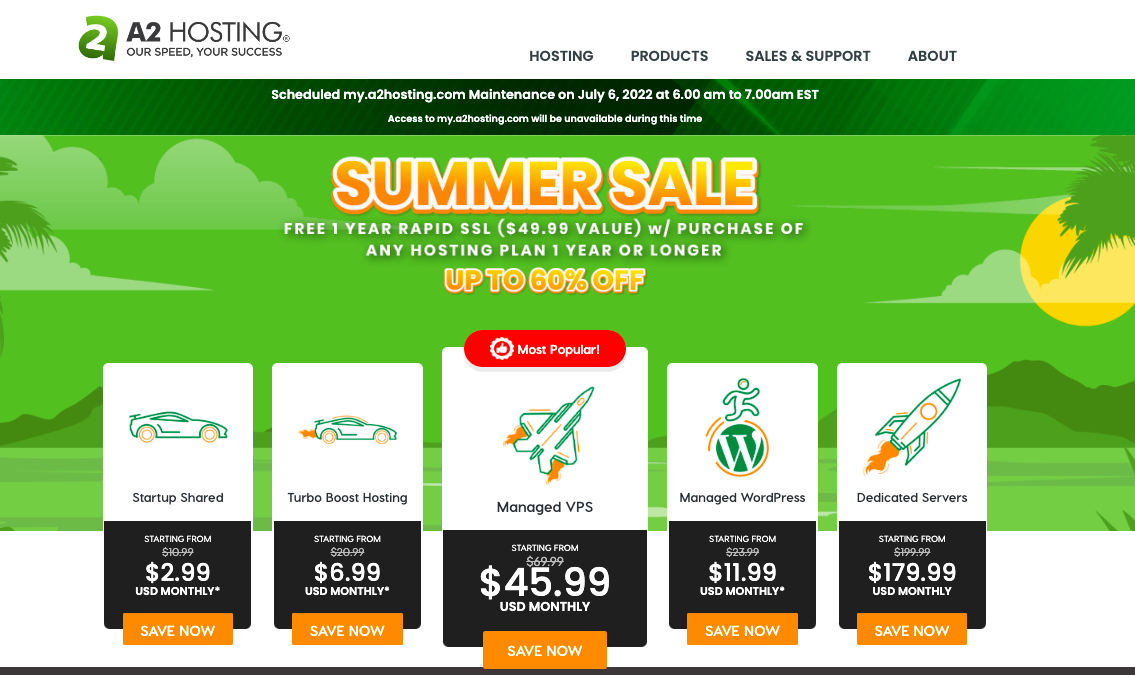 It also features a SiteBuilder that provides you with a wide range of website themes and designs. These can be adapted without difficulty to give your church website a unique look that gives visitors a sense of your church's personality while also providing them with the information they need.
Note that while A2 Hosting isn't free, it does offer nonprofit discounts for churches that qualify. Irrespective of whether or not you meet this requirement, all plans include:
SSL certificate
Firewall to protect the site and check for outdated plugins
Filter to catch spam comments/emails
A2 Hosting has a dedicated customer service team means that if your website designer struggles with any part of your church's website construction, there's someone to reach out to who can talk you through the process.
Additionally, it uses a one-click download structure to make downloading and starting up your new software as uncomplicated as possible.
Lastly, A2 is committed to enhancing sustainability, making it an excellent hosting platform for churches with ongoing green initiatives or outreach.
InMotion isn't as well-known as other hosting platforms on this list, but only because it's also younger. The company began in 2001, and we think it's one of the best church website hosting options available.
It's an excellent platform for church leaders looking to build websites, irrespective of experience level. InMotion hosting offers a variety of hosting plans and themes that cater to different degrees of technological fluency. There are website tools to coach novices through the website design process.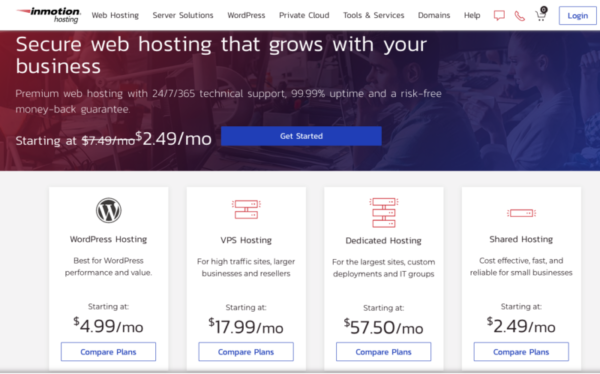 More experienced users will enjoy tools like site migration that allow you to construct your church website quickly and without fuss.
Whatever your familiarity with computers, users agree that InMotion Hosting's various plans offer excellent:
The different hosting plans InMotion offers accommodate different requirements for things like photo storage and the number of websites you want to maintain
SiteGround is another hosting platform with several options. What's interesting about SiteGround is that many of these plans incorporate WordPress hosting or Cloud hosting in the plan you purchase.
It's also a fast-growing company with a product that performs reliably, keeping uptime at a maximum while still offering affordable rates. That said, it's one of the more expensive options on this list of best church website hosting platforms, but it's worth the cost.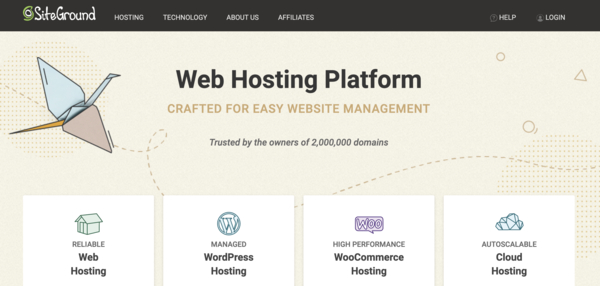 In addition to being compatible with WordPress, SiteGround also works well with other CMS models like:
SiteGround also features a variety of security options to keep your website and sensitive church member information safe. These include features like firewalls, scheduled backups, and round-the-clock monitoring for cyberthreats.
As with other website builders we explored, the dashboard interface is intuitive and uncomplicated. It's possible to adapt it to your specifications, although we think the non-customized model works effectively as it is.
We strongly recommend SiteGround to church leaders interested in online giving because the extra security measures ensure you never have to worry about third parties accessing the information or donations.
The other thing in SiteGround's favor is that it has a 99.99% uptime. This combines with a surprisingly fast website response time. All features that will increase traffic to your church's website.
However, one drawback is that SiteGround doesn't include a free domain name with its plans, so if you want to personalize your website name for added visibility, you will need to factor the cost into your expenses.
BuildYourSite stands out as one of the best church website hosting options because it is remarkably versatile.
In addition to website hosting, this small business also offers:
Website design
Marketing services
It's ideal for church leaders and committees new to building an online image. Their customer support team can help you reshape social media as well as your website, ensuring all are accessible, easy to find, and even easier for church members to use.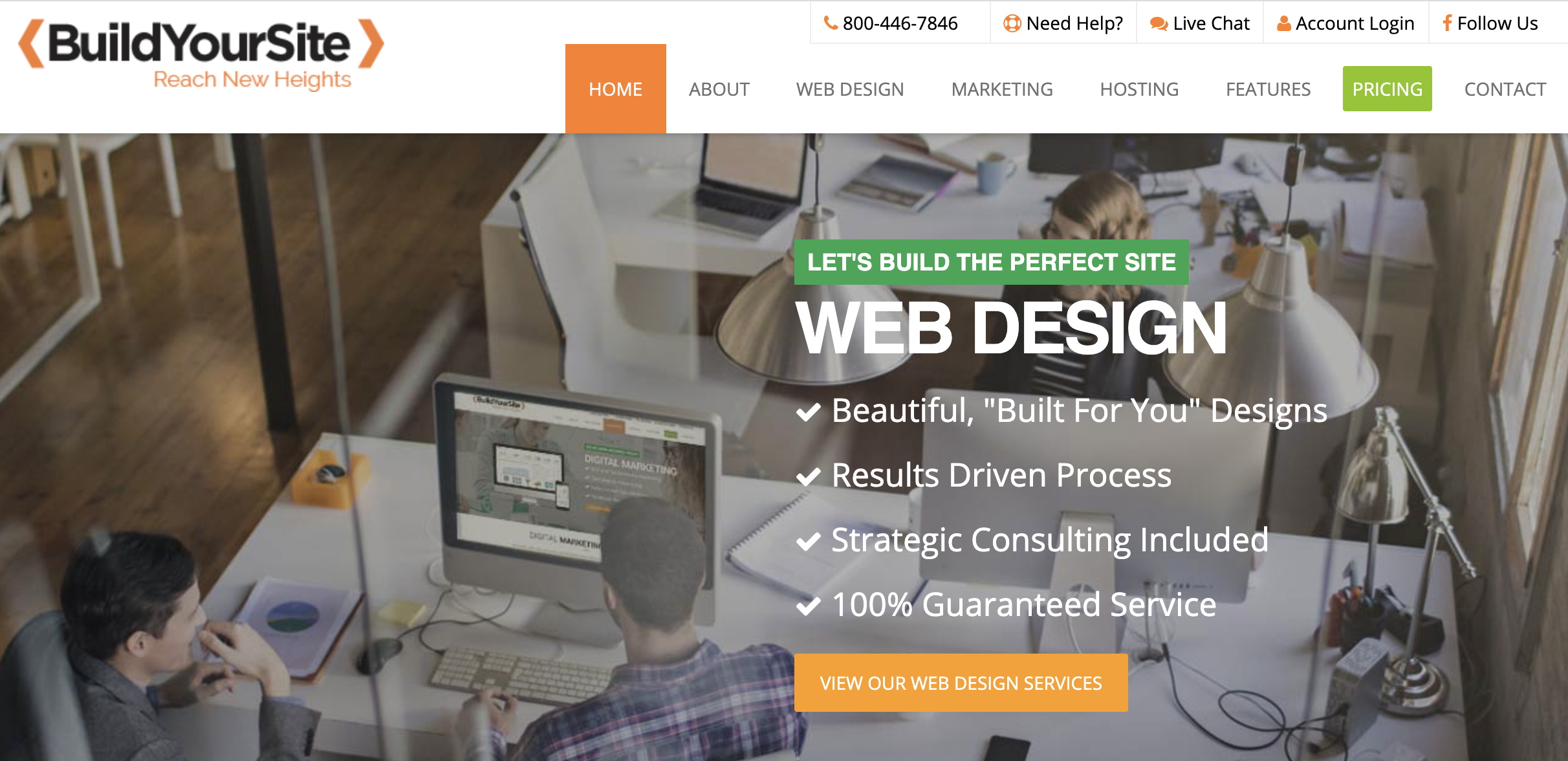 If you still find the process of website building daunting, you can hand off your church website's curation to experts. It will cost more but might be worth it in the long run.
Alternatively, you can do your own church website design. There's a straightforward dashboard that enables you to use your hosting platform to build a website that meets your church's needs.
However you proceed, there is always a customer service team available to help you by:
Despite the intuitiveness of the design and the efficient download, one of the drawbacks to BuildYourSite is that it doesn't offer a free trial like other website hosting options. That means you need to decide whether you want to commit to it before subscribing.
The company does offer money-back guarantees if you aren't satisfied with the product, but it's more time-consuming than canceling a free trial.
HostPapa is another website hosting option worth investigating. Unlike BuildYourSite, you can opt for a trial with this hosting platform.
It's an excellent option for church websites because its various features make it compatible with WordPress themes. It also offers extensive customer support for the novice builder, if needed.
At its most basic, it offers unlimited bandwidth, 100GB of storage, and 100 emails. So, once you settle on a domain name, you'll have no trouble assigning corresponding emails to various church employees.
All plans include an extensive selection of templates for church websites. They also offer comprehensive security, firewalls, and spam filters to protect your website.
However, pay attention to your subscription fee. Many users say that while the first year's fees are reasonable, they increase when you renew the subscription. For that reason, it may not be suitable for builders designing websites on a budget.
Dreamhost is the ideal hosting company for middling-sized churches. Its plans include a free domain name, ensuring you can give your church website a unique name. It also includes an SSL certificate for website security and data protection.
While its rudimentary plans don't have as much storage as some of our other picks for best website hosting, DreamHost offers an extensive range of plans. These cater to various storage needs, so you should be able to find a plan and template that's suitable for your church website.
In addition to being easily downloadable, Dreamhost preinstalls WordPress and, by extension, WordPress templates. There's no extra step in choosing a CMS with this web host because DreamHost does that for you.
The other advantage is that the WordPress website builder included with the program is familiar to anyone with prior WordPress experience. That makes building your website straightforward. All you need to do is pick the church website template you prefer.
In addition to the SSL certification, there are other safety features, including:
Firewalls
Routine backups
It also has an extremely low outage rate, showing a total of one-minute unavailability in one month. That gives it a 99.99% uptime.
While there are many Dreamhost plans to choose from, most small- to midsize churches can build an effective website on the starter plan. The only reason you might upgrade would be to gain access to things like emails.
We include Host Color as one of the best church website hosts because its plans are fully customizable. That means you can build a plan to your church's specifications.
Another feature of Host Color is its shared hosting policy. This allows several websites to share the same server and is extremely useful if you need to build church websites for multiple churches or parishes.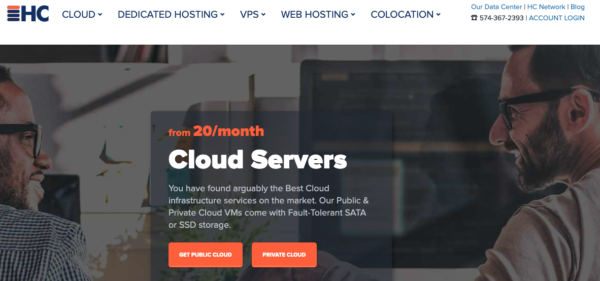 There's also an option to manage your host platform yourself, but if you don't feel confident doing this, you can pay extra and have experts at Host Color oversee the host platform for you.
Because the plans are so varied, many first-time customers can feel overwhelmed. However, the customer service team is always available to talk you through the process of finding the right plan to build your church website.
Things To Consider When Building A Church Website
The exact step-by-step of how to build a church website varies depending on the hosting platform you opt for. However, there are some things you should keep in mind, irrespective of your provider.
Accessibility
Never overlook the importance of accessibility. It's normal for people to hear accessibility and panic because making an accessible website sounds daunting. But it doesn't have to be.
Remember, it's not all about adding audio enhancements to the text. Less complex website features can also enhance your website availability. For instance, if you choose white as a background color, avoid light-colored typefaces like gray or blue. It might look aesthetically pleasing, but it's hard to read.
Layout
You also want a church website that's as easy to navigate as it was to build. Try to avoid cluttering your homepage with too much information. Long lists and text that isn't clearly demarcated can be hard to interpret.
That's not to say you shouldn't use any text. But if you do, don't hesitate to break it up with things like borders and headlines that differentiate between different sections.
Conclusion
When it comes to finding the best church website hosting services, there are multiple options.
Whatever website host service you opt for, keep in mind that you want something:
Protected
Intuitive
Easy to download
With adequate storage
Your needs will depend on how big your church is and how much content you want to post or store on the website. As you build it, be mindful of layout and accessibility. How quickly your church website loads is important, but so is its readability.
Finally, although it can seem daunting, these selections of the best church website hosting platforms can be excellent tools to increase your church's online presence and visibility. Don't hesitate to make the most of them.