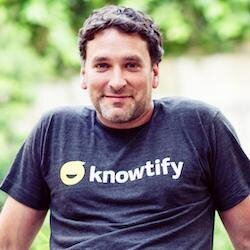 Latest posts by Paul Wheeler
(see all)
Without a web hosting service provider, it's impossible to make any website go live. Every website requires a hosting environment, or a secure "nest" where it can be indexed, crawled, and found by users.
The trouble is: if you're on a budget or need to cut costs, web hosting might not be in the cards for now. In this case, free web hosting could be a valid option.
(As you can see, I often step on eggshells when talking about this type of service. You'll understand why.) 
There are plenty of web hosting providers offering plans and services either at no cost or for dirt-cheap prices. For website owners who are either on a tight budget or "learning the ropes" with a brand new site, those can be a fantastic option. However, most free web hosting providers will only set them up for bigger problems in the future.
In this article, I'll explain more about why you should be careful when choosing such providers.
Is Free Web Hosting Safe? And Do Services Really Offer It?
Yes, some services offer free website hosting either as a starting plan or a free-forever plan. If it sounds too good to be true, that's because it usually is.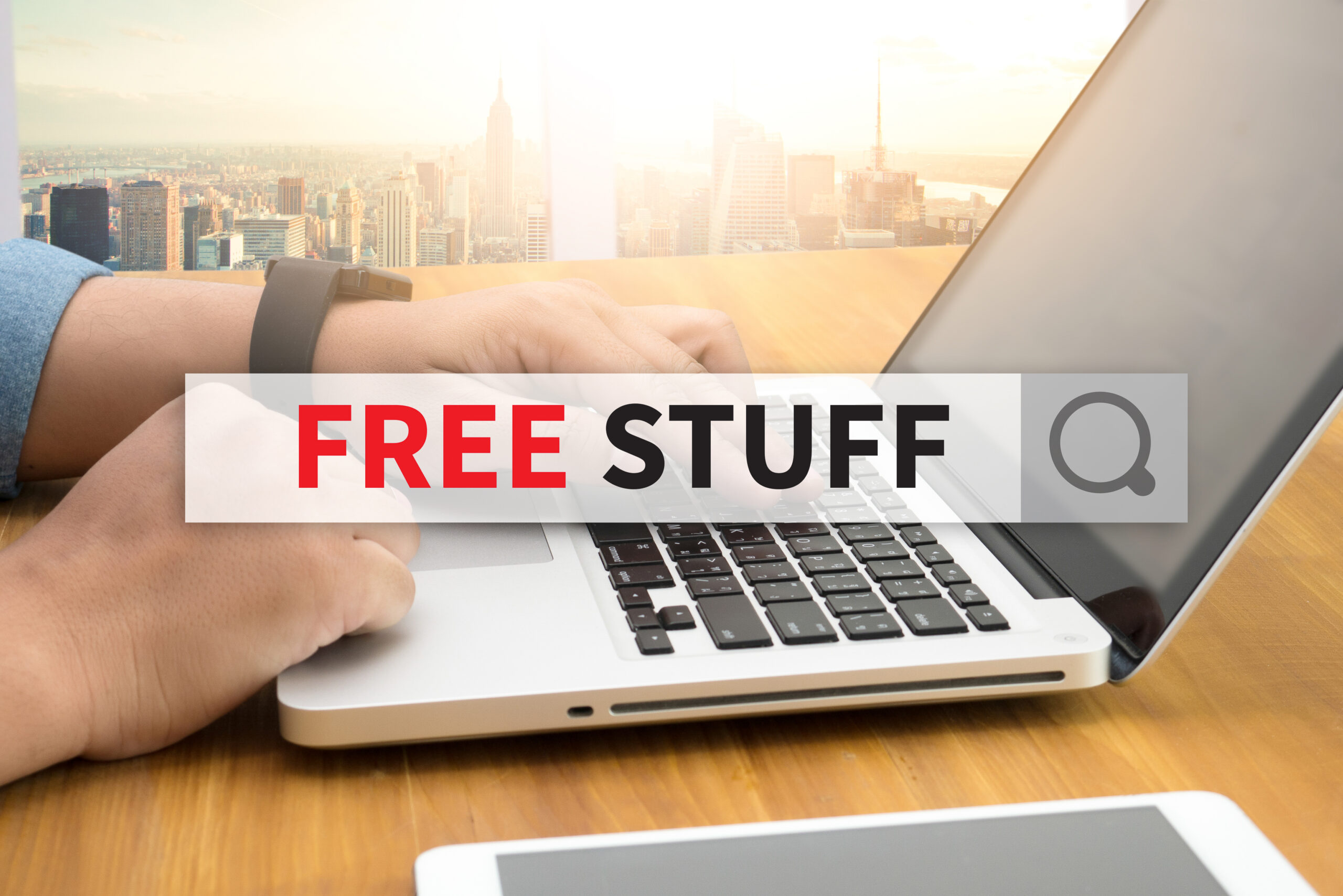 In business, almost everything that is "completely free" is a conduit to the real thing, whether that's a premium plan or a demo. And as the saying goes, you have to spend money to make money. So, if your goal is to make more money…then forget free.
Besides, website owners often choose to upgrade their plans when free options become too limited in features and storage space. Of course, pricing plans and features will vary among services – so you should take your business's needs into consideration when upgrading your plan.
As for safety, how safe is free web hosting? In short, it depends. If you choose a reliable platform and follow security best practices, you'll have no reason to worry. But all in all, if safety is a priority, it's always best to pay a small monthly fee to host your website.
The Pros and Cons of Free Web Hosting
While there are far more cons than pros to free web hosting, let's be objective and evaluate both.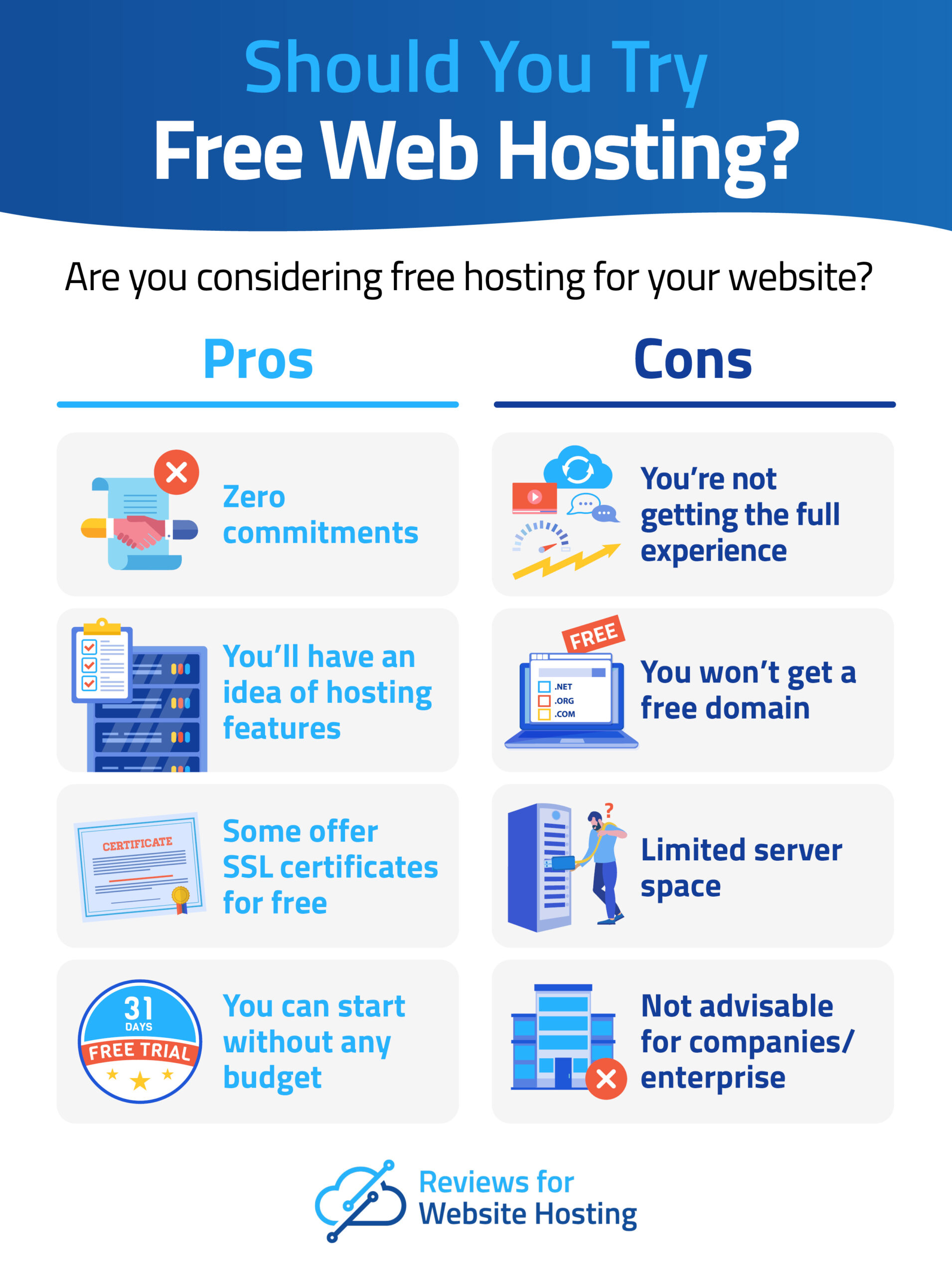 Pro: Well, It's Free
It's true that a lot of paid web hosting plans don't offer a free trial. It's okay – it might not be what you need, anyway. You might just be trying to learn how the platform works, how to customize it, or if it's worth it. There's no need to pay a dime for that, unless you need to use features and templates that are only available in premium packages.
Pro: It Gives You an Idea of What Premium Packages Can Offer
If you're happy with a free hosting package, you'll be able to see what the paid versions have in store for you. You can test the waters before diving in and avoid a potential waste of time, money, plus the hassles associated with those.
Con: You May Not Get the Full Experience
TechRadar has recently compiled an objective list of free website hosting services. In their own words, "none of the free website hosting providers that passed our test could measure up to even the cheapest paid-for service on the market when measuring the quality of the product or its features."
Plus, their research found that only eight out of a whopping 18 providers delivered everything a website owner needs to run a website. So, sadly, you shouldn't expect the world from free web hosting.
Pro: Some Providers Offer SSL Certificates at No Cost
SSL, short for Secure Sockets Layer, refers to site encryption (converting plain text into code) for securing website data. That's what makes HTTP (Hypertext Transfer Protocol) sites into HTTPS –  in which "S" means "secure." SSL protects the information that's transferred between your website and whoever's browsing it. This protection is essential, as any personal information that hasn't been encrypted can be easily seen and stolen by cyber attackers.
In addition, Google rankings disfavor non-secure websites, particularly if these sites request visitor information through cookies. Therefore, it goes beyond a matter of choice at this point.
To authenticate that encryption, website owners must have an SSL certificate available. Thankfully, providers like GoogieHost offer those certificates, along with hosting, for free.
In general, if you eventually choose to pay for a hosting plan, you'll be covered by HTTPS URLs and SSL certificates by default.
Con: No Free Domain
Which of the following looks more reliable?
Google.com
Or…
Google.mybeautifulgooglewebsite.com?
I thought so.
While that was an exaggerated example, free web hosting services will usually provide you with a subdomain like the one shown above. Yes, they're often customizable, but most of them look unprofessional and too long. This gives people a hard time typing, and doesn't perform too well in search engine rankings.
Unlike memorable and trustworthy URLs, a lot of subdomains are unattractive enough to chase customers away.
Con: Not a Lot of Server Space
Some free website hosting platforms offer very, very limited server space. Everything is limited: website speed, performance, and content storage. That's because the amount of space available on your site will dictate how much data you can include in it – be it code, text, or images.
The more space your website fills up, the slower its performance, and the higher the stress.
Con: It May Not Be the Best Option For Larger Companies or Enterprises
Unless you're a personal blogger, a beginner, a dabbler, or a brand new company, a free website hosting platform isn't a great option for you.
When all you want is to use a website for practice or to create something personal, free is fine. But wanting to grow a business is another story. An online business can't be successful without a website. And in this case, a free website and no website are the same thing.
Best Free Web Hosting Providers
If you'd still like to host your website for free, these are the best 100% free and almost free web hosting providers – as far as free goes.
IONOS plans start at $0.50 a month. That's practically free. You'll get a free domain for an entire year, a free professional email, as well as 24/7 support. It's the fastest hosting provider in the US, and therefore the perfect option if you're prioritizing loading time (and want a thumbs-up from Google).
Here's what else you'll get:
25 GB storage space
Up to 99.99% network uptime
Free domain
Unlimited hostable websites
Recommended by WordPress.org, SiteGround offers web hosting plans that cost the same as your average Starbucks drink. Their system administration is available around the clock, so your website will stay secure, fast, and credible. Speaking of fast: thanks to their custom scripting language, your website can load up to 30% faster.
Here's what else you'll get:
10 GB storage space (for the StartUp Plan)
Free SSL
Managed WordPress
Customer support available 24/7
BuiltYourSite makes website hosting as easy as its name sounds. Their affordable solutions have everything you need to grow your online business, even if you've never hosted a website before. Besides offering fully responsive "built-for-you" designs, their team offers a strategic approach to the site building process. Whatever you're selling, they'll make it look great.
Here's what else you'll get:
25 GB storage space (for the Starter Plan)
"Point-n-Click" easy website builder
Up to 5 web pages
Custom logo designer
WordPress is the world's most popular site builder for a reason: it's fantastic for beginners who aren't tech-savvy. From blogs to eCommerce websites, a WordPress free plan helps you with almost everything you need to create a stellar website. It's fully free to download and customize – unless you want other perks such as a .com domain name and unlimited access to plugins, for instance.
Here's what else you'll get:
3GB storage space
10,000 monthly visitors
Unlimited free sites
100 Free themes
000webhost is the child of web hosting provider Hostinger, which provides free shared web hosting. In essence, shared hosting allows multiple websites to share one single server. This solution usually limits the amount of server resources each user will have. But if you're looking for 100% free service, this will do the trick.
The team at Hostinger created 000webhost for those who find typical hosting prices expensive. Note that even if you end up choosing a paid plan, it might become "free" if you have cashback. ​​​​​​​​​​​​​​
Here's what else you'll get:
300 MB storage space
6GB monthly traffic
Up to 99% network uptime
Zyro's drag-and-drop website builder
All That Said…Here's Why You Should Be Careful With FreeWeb Hosting
Care goes beyond just safety. If you own a business, you need to care about offering the best possible experience for your visitors.
If you have a small project in the works that requires an "okay" website, or you're just running a small blog that doesn't need a lot of traffic, you'll be okay. But that's not the case for most of us who need to sell products and connect with customers.
Free web hosting will give you…
Little to no customer support. Forget detailed, done-with-you tech support. If you need handheld assistance to set up your website, you shouldn't expect that 24/7. In fact, that kind of support is a profitable differentiator for several companies, so doing it for free would be foolish.
Limits, limits, limits. As we've mentioned earlier, free hosting is mostly limited in every aspect. Exceed those limits, and your operations will slow down. With paid hosting, you won't be restricted by failing servers, ugly subdomains, and low storage space. To be honest, being able to run your own website without any trouble is kind of priceless.
Little to no safety. Without the HTTPS protocol, any data shared between you and your visitor (like names, emails, and card details) won't be encrypted. If a data leak ever occurs because of that, your business is to blame. Don't expect a clean reputation after that.
Fewer sales. As a result of all this, your website will underperform and be less trustworthy. This, in turn, may end up preventing them from staying on your site and completing the buyer's journey.
My Verdict on Free Web Hosting
I'd advise you to hold back from free web hosting whenever possible. Especially if you're serious about building a credible, lucrative website.
There are website hosting plans starting at as little as two dollars a month – nothing that will break the bank for you. Those plans may include everything from free professional domains to top-performing website speed, which could give you a massive return on your investment.
With that in mind, consider affordable hosting plans before going for a free one. I promise it'll be worth it.