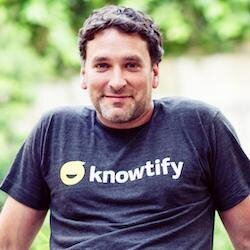 Latest posts by Paul Wheeler
(see all)
Deciding which of these two promising platforms to get?
Webflow and WordPress are two platforms worth trying, especially if you're looking to design, manage, and promote a full-featured website.
Each system comes with built-in features for a professional web project. However, these services use different website development approaches.
Both platforms are worthy competitors capable of creating feature-rich projects. It also takes time to learn and master Webflow and WordPress because they have complex editors and a large inventory of elements and tools to explore.
So, which platform prevails over the other? Which is worth your attention, time, and budget investment? What distinctions affect your choice?
Here's a detailed overview of the Webflow vs WordPress debate.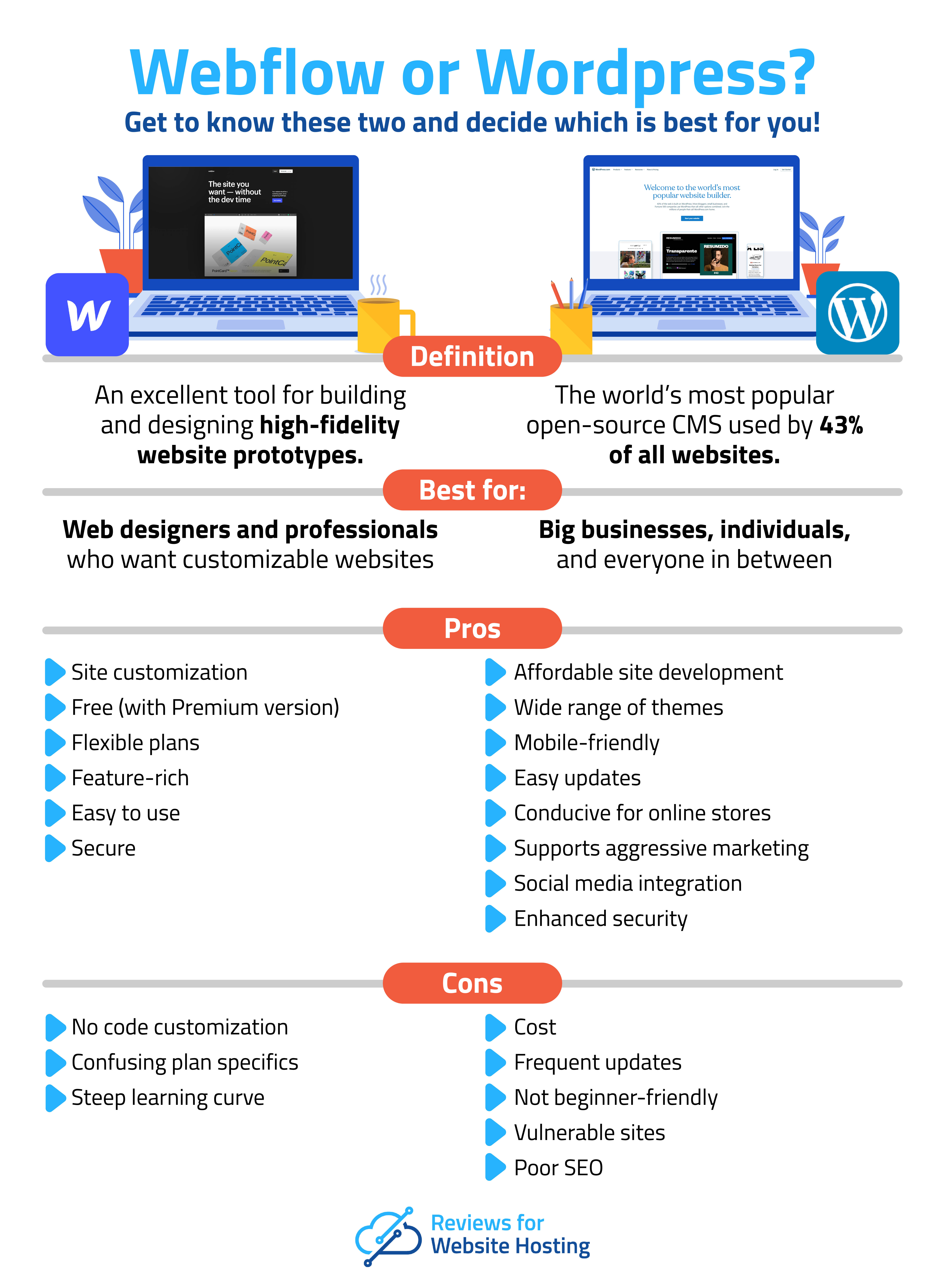 What Is WordPress?
WordPress is the world's most popular open-source CMS. Do you know that 43% of all websites are from WordPress?
One thing that makes it so popular is that anyone can download the software from WordPress.org and install it on a host to create a website.
The original intention for WordPress was to be a blogging platform, but this gradually morphed into a full-service Content Management System (CMS). A CMS is a tool that helps manage critical aspects of a website without learning a programming language.
The result is a platform that makes website creation accessible to everyone—even if you're not a developer!
WordPress can handle any website type, including:
Portfolios

Forums

Membership sites

Business sites

Blogs

Resumes

Social networks

Mobile applications

Anything you can dream up
What does WordPress do?
WordPress started life as a standalone project back in 2003. The platform is an offshoot of the previous b2/cafelog project.
The open-source CMS has licensure under GPLv2, and anyone can adjust or use the WordPress code. Its original creation was a collaboration between Mike Little and Matt Mullenweg. Today, the platform has a large community of contributors.
Why Use WordPress?
Big businesses, individuals, and everyone in between uses WordPress!
WordPress is an easy-to-use platform, especially if you're new to web development. However, it also has a lot to offer if you have site-building experience.
WordPress is completely customizable and comes with plenty of features that help you create any site you'd like.
Many well-known entities are using WordPress, including:
WordPress Pros
Here's why many people choose WordPress for their website projects.
1. Relatively Cheap Site Development
Website or blog building, development, and maintenance using WordPress are significantly cheaper than hiring a designer. 
The platform is free to install and comes with cost-friendly 1-click hosting plans. 
2. Wide Range of Professional Themes
You have the freedom to choose the theme you want from a wide selection. Premium themes cost as low as $19.
3. Mobile-Friendly Sites
Making your website as responsive as possible to multiple devices is critical.
Most WordPress themes and designs are responsive, so you automatically benefit from emerging responsive web technology when creating a new site.
4. Easy Updates
All you need is a little web development know-how and experience to make a few changes to your site.
5. Great for Online Stores
Many e-commerce sites use WordPress because of the number of plugins available, including WooCommerce, that make online selling easy.
6. Best for Aggressive Marketing Online 
You can make as many updates to your content as you want.
Fresh and frequent content can help build credibility in your niche. Plus, you can create new WordPress sites in minutes to leverage tactical campaigns.
7. Exceptional Social Media Integration
It's easy to integrate social networks with your WordPress-powered site. Social connectivity also makes it easy to update all your accounts with a single click.
8. Enhanced Security
WordPress security plugins and updates ensure your website is hack-proof. Security on WordPress sites is more enhanced than on traditional sites.
WordPress Cons 
There are drawbacks to using WordPress, including:
1. Cost
The platform is free, but efficiency-enhancing plugins and themes have a price. Using more tools increases your budget. 
2. Frequent Updates
After updating WordPress, you also have to update the themes and plugins you're using to ensure proper functionality. You may run into compatibility issues when you have many plugins on your site. 
3. Not beginner-friendly
Navigating the WordPress web design, maintenance, and development process can be difficult, especially without prior experience. 
4. Site Vulnerability
WordPress is a popular CMS, making it a prime target for cyber attacks. Heavy reliance on plugins from different people also increases the chances of malicious code affecting your website's functionality. 
5. Poor SEO
Search Engine Optimization (SEO) friendliness can be an issue if you have no SEO experience. Google will flag any WordPress content that is over-tagged or in too many categories as duplicate content. The result is a significant drop in your site's Search Engine Results Page (SERP). 
What is Webflow?
When building a website, the typical assumption is you need to code. As a result, it's tempting to forgo creating your business site until you learn to code—which can take forever.
Why not consider a no-code website development tool instead?
One such tool is Webflow.
Webflow is an excellent tool for building and designing high-fidelity website prototypes. Use the platform to show team members and clients what the finished site will look like instead of imagining your website's appearance and behavior.
What does Webflow do?
Webflow is a Software as a Service (SaaS) platform capable of building websites via a visual, drag-and-drop tool. Unlike other SaaS website builders, such as Wix and Squarespace, Webflow gives you access to the website's underlying code.
A visual builder is a visual tool for generating your website's JavaScript, CSS, and HTML. Webflow also has a CMS for creating directories, e-commerce stores, blogs, and much more.
Webflow is a self-contained platform. While the platform's core is everything you need to create your website, there are features for embedding code.
After creating your site, you can:
Export the code and host on your preferred hosting provider for static sites;

Or pay Webflow to host the site—a requirement if you want dynamic content via the CMS.
Why Use Webflow?
The platform empowers designers to build professional, custom websites using their visual online canvas.
Some of the leading websites using Webflow include:
Webflow Pros
Here are the significant benefits of using Webflow.
1. Website Customization
Webflow offers you complete control of what your business website will look like without entering a single code. Plus, you don't have to deal with boring templates.
2. Free to Use
The platform is free to use unless you want features in the premium versions. However, the free features are an excellent starting point. Further, the paid plans are economical.
3. Flexible Plans
No other website builder offers as many plans as Webflow.
You can stick with the free plan or purchase a paid plan. The main plan categories are:
Site plans—These plans offer basic website direction and templates

Account plans—Enroll in these plans if you're looking for advanced add ons and features
Both plan categories offer you more customizable options. 
4. Plenty of Features
This drag-and-drop website builder also supports JavaScript, CSS, and HTML. But, you don't need to learn to code, so you can easily build a static or e-commerce website with Webflow.
Webflow can also help rank your website on Google. The platform boasts advanced SEO controls so you can develop an SEO-friendly website fast. You also get over 100 responsive and unique website templates.
5. Easy to Use
The interface may look a little complex at first glance. However, you'll find it easy to use once you get over the interface. There's no coding, no hassle—all you do is drag and drop the elements you want.
Webflow also supports over 2,000 fonts and is capable of complex customizations. The platform doesn't have plugins like WordPress, but they have a DropinBlog feature for adding a blog to your site.
6. Secure 
Each Webflow plan comes with a free SSL certificate. As a result, no one can access your site's backed without your permission, and Webflow complies with all security standards.
Webflow Cons 
Webflow also comes with a few demerits.
1. No Code Customization 
You get various editing level customizations with Webflow. However, you cannot customize a website at the code level.
Some basic level code customizations are possible. But you can't change a code's functionality via coding.
2. Confusing Plans
A wide variety of plans is both a pro and a con. The range of plans you get is sometimes confusing and complex, making it difficult to determine which plan is ideal for you.
3. A Steep Learning Curve 
Building a website on your own might take time because you need to learn the platform's ins and outs. You also need to have a basic understanding of website design principles, so the product looks and functions as expected.
Webflow vs WordPress: What's The Difference?
Webflow and WordPress are excellent tools for creating stylish, professional sites without coding knowledge. Both platforms have a CMS that lets you publish news websites, blogs, portfolios, online shops, business websites, and more via a graphical user interface.
The platforms also offer pre-made, high-quality website templates. However, you can build your site from scratch.
Create unique designs in Webflow using the Webflow Designer. The drag-and-drop page editor lets you customize colors, layouts, elements, typography, etc.
The WordPress core version lets you adjust the design using the WordPress theme customizer. You can also create media-rich pages and posts using the WordPress block editor (Gutenberg).
Here are the other differences.
Features
Webflow and WordPress offer everything you'd need to create a website. However, you need to rely on plugins to get added functionality on WordPress.
Common features in both platforms are:
Pre-made themes and templates

A full content management system

Blogging

SEO optimization

Performance optimization

SSL certificates

Code access

Ecommerce

Static HTML websites

Visual drag-and-drop capabilities
However, there are a few feature differences, which we discuss below. But WordPress and Webflow both do almost everything for most website owners.
Ease of Use
The Webflow sign-up process is a breeze. All you need is an email, your password, and your name. Next, you get a few questions about your technical expertise and the type of website you want to build.
Beginners are better off choosing one of the templates even if Webflow allows creating a website from a blank canvas. The interface has many buttons, making using Webflow Designer a little daunting if you've never used a site page builder before.
Fortunately, Webflow has video tutorials to ease the learning curve.
WordPress needs to install the software before using it. Most web hosting service providers will install the platform for you.
The WordPress block editor provides a better user-friendly experience compared to Webflow. However, it's less powerful and suitable for writers and bloggers.
Many WordPress themes allow modifications to the site design via the theme customizer tool. This customizer is easy to use but may be cumbersome when jumping back and forth between settings.
WordPress boasts a user-friendly theme customizer and editor, but Webflow is easier to use. Webflow takes care of all the major administrative tasks so that you can focus on the website.
Plans and Pricing
Webflow provides a transparent pricing policy. The annual membership costs 20% less than the monthly options.
Signing up to Webflow and creating two unique projects is free. However, the free account is only best for learning the platform and testing it. Restrictions on features and adding pages are present.
The plans on Webflow look like this:
For up to 10 projects, pay $24 a month

Unlimited projects go for $42 a month

Once you're ready to publish the project online, you need to choose a plan at either $15, $20, or $45 per month
The Webflow pricing is competitive from a traffic point of view by offering you:
A basic plan with 25,000 visitors a month

CMS for 100,000 visitors monthly

Business plan for 1,000,000 a month
However, there are restrictions to the plans in other ways, such as:
The basic plan will not let a visitor search your content, and others cannot edit your site

They limited all websites to 100 static pages
Webflow monthly costs are fixed, so it's easy to determine how much the service will cost your business when you know the traffic levels and e-commerce profits.
WordPress is free to download, but you need to consider several things. First, the platform may cost less than Webflow.
The cost depends on the site hosting package you choose, the WordPress theme you're using, and the premium WordPress plugins you install.
Cost of running an e-commerce site using WordPress also varies. Free plugins such as Easy Digital Downloads and WooCommerce can help you build a simple online shop. However, you'll likely spend thousands of dollars annually for added functionality.
Themes and Templates
For each Webflow template, you get a screen preview, description, and a features list. You can preview the templates within the Webflow Designer or in the browser.
You get about 100 website templates from which you can choose. Close to half of the templates are free for download. However, the premium themes will set you back up to $149.
Third-party Webflow templates are available on marketplaces such as Flowbase, but the market is thin. The all-in-one publishing solution, Webflow Designer, lets you add content, your shop products and change your site design.
The Designer is Webflow's heart and an excellent selling point of the platform, but the initial loading takes a while. You get many elements, including CSS transitions, images, symbols, and animations. The premade layouts help construct pages fast, and you can view the page structure via the built-in navigator.
All you need to do is click a specific page element to change the size, design, colors, etc. Developers also get useful options, such as a style manager and the ability to export code.
The Interactions feature is a favorite for many because it lets you set triggers for specific actions. For instance, animating an element when visitors hover over a page section.
However, managing images on Webflow is frustrating. Image uploading is straightforward, but managing the current images is clunky.
On the other hand, WordPress features a media gallery that provides a refined experience. The platform also has one of the largest communities of website developers and owners online, so you get access to a massive collection of premium and free plugins and themes.
The official WordPress themes directory has about 4,000 free WordPress themes. You also get over 10,000 premium and free designs from third-party developers.
WordPress simplifies installing new themes. You can install the themes from WordPress.org in the admin section, while third-party themes are available in ZIP format.
Webflow Designer is a fantastic and powerful platform from a design view compared to the WordPress core version. However, you can expand the design functionality in WordPress using plugins—something that's not possible in Webflow.
Plugins and Extensions
Webflow and WordPress provide all the tools for building your website. However, you can extend the site with features beyond the core platform.
Most website builders offer the extra functionality through extensions, apps, or plugins—the terminology differs.
WordPress offers a massive selection of plugins that add more functionality to your website. The platform assumes you'll use the plugins to enhance website functionality, including SEO and making the website mobile-friendly.
Webflow doesn't have official plugins, so you can't add extensions to the interface directly. But you can add new features to extend your website through code snippets from other services.
The code snippet integrations have workarounds before they work compared to WordPress plugins that are fully native.
Content Management Functionality
You can add pages and assign them to folders using Webflow for a hierarchical flow of page management. Each page has a title, slug, and SEO settings.
You can edit the pages just as you would layouts. The functionality makes it easy to see how the content looks on your site. However, the process may be frustrating if you have a long article and your formatting options are limited to inserting links, italics, and bold.
You can also group blog posts in Webflow by content types, such as products, portfolios, and services. When adding new content, click the add new CMS Collection item button.
Unfortunately, you only get a few formatting options with Webflow.
WordPress doesn't have restrictions on the images, users, pages, or posts you can add. The platform also offers a way to create custom post types for adding content using plugins. Such functionality allows transforming your website into a discussion forum or membership site.
The full-screen WordPress editor mode removes the admin menu so you can focus on writing your content. Click the plus icon at the top of a page to load content blocks and add rich media content.
You also can use the classic editor if you prefer the What You See Is What You Get (WYSIWYG) function.
WordPress is the more powerful CMS compared to Webflow. There are no restrictions on items you can add, and the custom post types feature helps expand your website further. Writing long articles in WordPress is also a better experience.
Support 
Webflow University offers hundreds of lessons, tutorials, and video courses. Their blog also contains helpful tips and example sites.
However, Webflow support is only active between 6 AM and 6 PM (Pacific Time) on weekdays. But you get an active discussion forum where you can ask for help.
WordPress offers us an extensive documentation area, so you learn more about the platform and troubleshoot common issues. Thanks to its popularity, a quick online search also reveals tens of thousands of WordPress tutorials.
The WordPress self-hosting version is open-source, so you can't get help from WordPress. Fortunately, most website hosting services help their clients troubleshoot issues with WordPress.
The support level depends on the hosting service. WordPress hosting services, such as WP Engine, offer 24-hour, 7-day-a-week support.
What's Our Verdict?
As we come to the end of this Webflow vs WordPress comparison, which is the better option?
Comparing the two platforms can be difficult because you need to consider several factors. To help you make the right decision, think about:
The type of website you're building

Your budget

How much hands-on experience do you want with website maintenance?
Webflow is the best fit in some situations, while WordPress works best in others.
Webflow is an excellent platform if you're a beginner, own a small website, or want to launch an online shop. Pricing is competitive, and the platform takes care of the time-consuming aspects of a website.
However, WordPress is the more powerful site-building platform. You don't get restrictions on the number of pages you can add to your website, people editing the site, or the page builder you use. WordPress also offers you a chance to change to whichever e-commerce solution you want.
WordPress is the ideal platform for writers. It does not cramp editing like in Webflow, and changing your writing and design setup is easy through plugins.
Web Hosting for Webflow and WordPress
Web hosting is one of the critical components of any successful website. Choosing the best hosting company can improve SEO and increase sales.
You can use the Webflow hosting service and get a managed experience.
Otherwise, use the code export option in Webflow to download your site and upload the files into your preferred hosting service (available for paid account plans only).
Another easier option is to point your custom domain name to your Webflow website.
Here are web hosting services that work best with Webflow and WordPress.
Hosting with Webflow is easy and worth considering for several reasons.
The hosting service has backing from Amazon Web services and Fastly. The collaboration means you get "lightning-fast" and "ultra-reliable" hosting, according to Webflow.
Hosting on the service also means you get free SSL, versioning and backups, a built-in Content Distribution Network (CDN), SEO management, and more.
To host your site on Webflow, purchase the Site Plan (separate from the Account Plan), which ranges from $12 to $36 a month.
SiteGround
—Best WordPress Hosting Service
SiteGround is one of the few hosting services WordPress officially recommends, making it an excellent choice for your WordPress site.
The platform has its environment optimized for WordPress websites of any type and size and offers simple-to-use tools for setting up the website.
SiteGround currently houses over 2,000,000 domains worldwide and is one of the most reliable and fastest-growing independent web hosting companies.
WP Engine
—Most Popular WordPress-Only Host
WP Engine offers premium integrated WordPress hosting services. However, the service does not host non-WordPress websites.
You gain access to thousands of WP developers who create integrations for full website customization.
WP Engine also has a reputation for stellar support via phone, chat, and helpdesk.
Wrap Up
WordPress is clearly the better option compared to Webflow.
WordPress comes with more design options, e-commerce, support, and flexibility options at a lower price point. You can also manage your spending by choosing what you want.
Webflow offers you an excellent web design tool that works flawlessly. However, limited CMS features, support, integrations, and flexibility can be a drag.
The Webflow vs WordPress debate all comes down to your specific requirements. So take the time to decide, but consult with a professional to see all the options and what will pay off in the end.